Judy Favor
Assistant Professor of Adult Learning and Leadership
Contact Info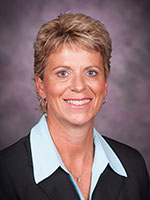 jfavor@k-state.edu
913-307-7362
Judy Favor's 20-year career in higher education includes experiences as an administrator, faculty member, and NCAA athletic coach. Prior to joining the K-State Olathe faculty, she spent 9 years as an adult education administrator leading recruitment, marketing, enrollment, and academic programming initiatives.
At K-State Olathe, Dr. Favor teaches in the Adult Education program and works to expand the programs in the Kansas City Metro area.
Education
Ph.D. in Education, University of Kansas, 2010, School of Education Outstanding Dissertation Award
M.S. in Guidance and Counseling, Southeast Missouri State University
B.S, Physical Education, Culver-Stockton College
View her CV (pdf)
Research Interests
Ways that social and psychological characteristics of individual group members and leaders impact group dynamics, effectiveness, and learning; and health and wellness factors as they pertain to and influence adult learning.
Publications/Scholarly Work
Favor, J. (2012). Adult students' perceptions of long-functioning cooperative teams in accelerated adult degree programs. Journal of Continuing Higher Education, 60, 1- 8.
Lumpkin, A., & Favor, J. (2012). Comparing the academic performance of high school athletes and non-athletes in Kansas in 2008-2009. Journal of Sport Administration & Supervision, 4, 41-62.
Favor, J.K. (2011). The relationship between personality traits and coachability in NCAA Divisions I and II female softball athletes. The International Journal of Sport Science and Coaching, 6, 301-314.
Favor, J.K. (2011). Evaluating coachability in prospective college athletes. Journal of Coaching Education, 4, 65-82.