Ben Wolfe, Dean and CEO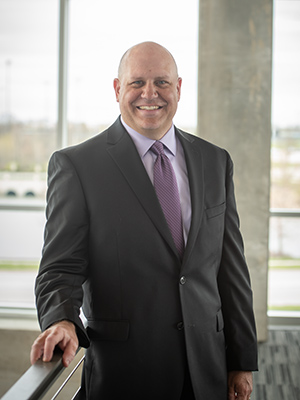 Benjamin Wolfe, Ph.D., is the dean and CEO of K-State Olathe, serving in the role since June 12, 2022.
As CEO, Wolfe is responsible for overall program leadership, strategic direction, fiscal stewardship, fund development, policy formulation, impact assessment and aligning the efforts and strengths of K-State Olathe with those of K-State.
Wolfe, who has extensive knowledge about the Kansas City region and workforce, works with university and regional stakeholders to maintain a strategic focus for K-State Olathe consistent with the strategic directions of the university and to build continued excellence and growth in education, research and outreach programs through the Olathe campus.
Before coming to K-State Olathe, Wolfe was the associate dean of the School of Professional Studies and the KU Edwards Campus in Overland Park. In that role, he helped facilitate develop of more than 20 new degree and certificate programs and oversaw JCERT-related academic programs. He also was a faculty member in the environmental studies program at KU in addition to teaching geoscience-related courses for more than 20 years.
Prior to joining higher education, he worked as an environmental project geologist.
Wolfe holds a bachelor's degree, with distinction, in geology from the University of Nebraska-Lincoln; a master's degree in geology from the University of Alaska, Fairbanks; and a doctorate in educational leadership and policy studies from the University of Kansas. He is a published researcher in geoscience education and higher education policy and has presented at national conferences and workshops on the topics of workforce development, strengthening regional partnerships between higher education institutions and broadening participation in the sciences.
Originally from Lincoln, Nebraska, Wolfe has been a resident of Olathe since 2001 with his wife and their four children.