K-State Olathe cooks up a food safety lesson for middle school students
Friday, Sept. 15, 2017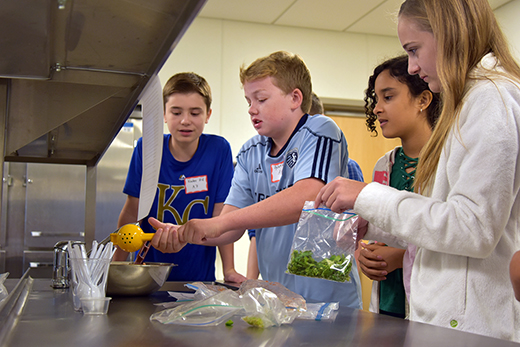 Blue Valley Middle School students added fresh lime and other seasonings to their salsa. The goal was to make salsa from scratch without contaminating it during the preparation process.
OLATHE — Kansas State University Olathe is helping middle school students add some spice to their science curriculum.

On Sept. 12, more than 60 students from Blue Valley Middle School came to
K-State Olathe to learn about the science involved in food safety. The field trip was part of their family and consumer science curriculum.

After a classroom lesson about food safety, student teams used the campus' teaching kitchen to make salsa. They combined ingredients and added seasoning to taste. Samples of each team's salsa were then placed under a hood with an ultraviolet light so students could test whether they had contaminated their salsa during preparation.

The students also toured the K-State Olathe Horticulture Research and Extension Center. They saw tomatoes growing at the source and learned how K-State Olathe research teams use those tomatoes in their work. The students also explored food-related careers in science, technology, engineering and mathematics, or STEM.
The activities were led by staff at the Johnson County Extension Office and food programs and services at K-State Olathe, including
Martha Nowak
, K-12 program coordinator;
Bryan Severns
, food programs and services manager;
Londa Nwadike
, assistant professor and a consumer food safety specialist for K-State Research and Extension and the University of Missouri Extension; and Helena Chiebao, postdoctoral research associate in the Urban Food Production and Postharvest Handling Lab.
"Students can learn so much about food safety, the food system and potential careers in food and agriculture by having these hands-on experiences," Nwadike said.
More students from the nine Blue Valley schools will participate in these activities throughout the fall semester.
As a response to reports from KC Rising and the Mid-America Regional Council about the need for talented STEM employees that extends far into the future,
K-State Olathe is helping the region develop a talent pipeline for the next generation of STEM professionals. Since opening in April 2011, more than 33,000 K-12 students and teachers have benefited from K-State Olathe's
STEM programs and activities
.