Londa Nwadike
Extension Associate Professor of Food Safety for Kansas State University and the University of Missouri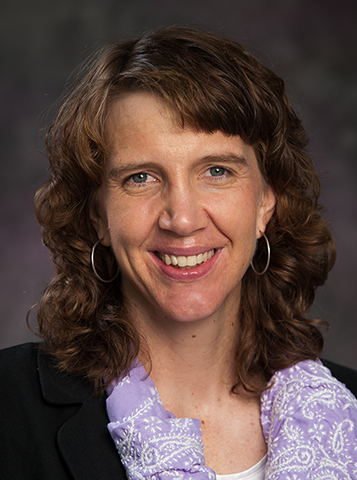 Contact Info
lnwadike@ksu.edu
913-307-7391
In a unique joint appointment between Kansas State University and the University of Missouri, Londa (Vanderwal) Nwadike serves as State Extension Food Safety Specialist for both Kansas and Missouri. She works with county/district Extension agents and other stakeholders in both states to develop programming and resources in food safety, focusing on consumer, produce grower, and farmer's market vendor issues. To learn more about her work with extension food safety, CLICK HERE.
Londa has worked for the United Nations Food and Agriculture Organization based in Rome, Italy. She also has extensive experience living and traveling in Africa. Immediately prior to moving to the Kansas City area for this new position, Londa served as Extension Food Safety Specialist for the University of Vermont. She grew up on a farm in South Dakota, so is excited to return to the region with her family.
Education
Ph.D., Public Health/Agricultural Health and Safety, University of Iowa, 2009
M.S., Food Science, Kansas State University, 2002
B.S., Animal Science and Food Science, South Dakota State University, 2000
View her CV (pdf)
Research Interests
Behavior change in relation to food safety practices
Methods of providing food safety information
Water quality for produce growers
Publications/ Scholarly Work
Irakoze, Zilfa, Londa Nwadike, Don Stoeckel, Manreet Bhullar, Patrick Byers, and Sara E. Gragg. "Evaluation of Peroxyacetic Acid and Chlorine as Treatments for Surface Water for Post-Harvest Uses in the Produce Industry." Water 14, no. 23 (2022): 3890. December 2022
Olivia C. Haley, Eleni D. Pliakoni, Cary Rivard, Londa Nwadike, Manreet Bhullar, "The Attenuation of Microbial Reduction in Blueberry Fruit Following UV-LED Treatment." Journal of Food Protection, Volume 86, Issue 3, 2023.
Zhao, Y., Haley, O. C., Bhullar, M., Stoeckel, D., & Nwadike, L. (2022). Knowledge and Current Practices Related to Agricultural Water Microbial Quality among Kansas and Missouri Produce Growers. Food Protection Trends, 42(6), 460-470
Quinn, James, John Kruse, Londa Nwadike, Jaime Piñero, and David Trinklein. 2021. "The Success of Plain People's Produce Auctions and Partnership with Missouri Extension." Journal of Amish and Plain Anabaptist Studies 9(2):177-90.