Bryan Severns
Manager
Food Programs and Services
Contact Info
913-307-7317
brysev@k-state.edu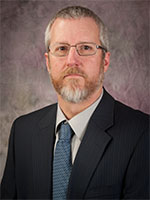 Bryan Severns has spent the last 35 years in the restaurant and hospitality industry. He has worked as a chef in operations as diverse as hunting camps, restaurants, inns and luxury hotels. Before attending Kansas State University, Bryan was an award winning Chef Instructor for 11 years at the New England Culinary Institute in Montpelier, Vermont.
His areas of expertise include fermented foods, protein fabrication and food safety. Along with his bachelor's degree, meat science certificate and master's degree in food science and industry (2014), Bryan holds a culinary arts degree from Johnson and Wales University (1984) and is a member of the Institute of Food Technologists.
In his role as manager of Food Programs and Services, Bryan runs the Food Innovation Accelerator and managers the research kitchens at K-State Olathe, coordinating their use by various K-State programs and colleges, research and extension, and industry partners. He also leads workshops on food safety to school nutrition associations and food processors in the KC area.
Bryan is involved with the Kansas Department of Agriculture in developing food safety training for the hospitality industry. He can be found in classrooms around Johnson County, enhancing FACS and Culinary curriculums in areas of food science, culinary skills and food safety.