Hospitality Management Bachelor's Degree
Combine your work experience with an education that opens doors to leadership positions.
By studying hospitality management at K-State Olathe, you have the benefit of living and working in Kansas City while earning a bachelor of science degree to advance your career.
*This estimate includes tuition and fees and is for illustrative purposes only. Your hours and costs will differ depending on your transfer hours, course choices and your academic progress.
Program Overview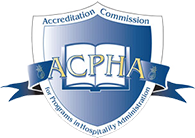 Our ACPHA accredited hospitality management program affords you the opportunity to stay in KC, work in KC and earn your degree in KC.
To earn your bachelor's degree from K-State, students need to complete 120 total credit hours. The first 60 credits are earned from one of our community college partners in Greater Kansas City. The remaining 60 credits are earned from K-State — 18 hours are face-to-face at K-State Olathe and 32 hours are online through the K-State Global Campus.
This flexible program is tailored to the Greater Kansas City region. Students can customize their degree to match their career goals by working in an area that leads to a rewarding career in the hospitality industry.
Student Spotlight
Learn why Myron Peterson wanted to earn his degree after working in the hospitality industry for years without one.
Admissions Guide
Admissions requirements are outlined in the downloadable pdf file in the link below.
View admissions guide
/academics/programs-undergraduate/admissions/admissions-checklist.html
Y
View admissions guide
Campus Options
At K-State's Olathe campus, you can complete your undergraduate degree with Kansas City as your backdrop and a combination of in-person and online courses.
If you're interested in a more traditional student experience, our Manhattan campus also offers a B.S. in Hospitality Management.