Graduate Profile
Myron Peterson
General Manager at Extended Stay America in Buckhead, Georgia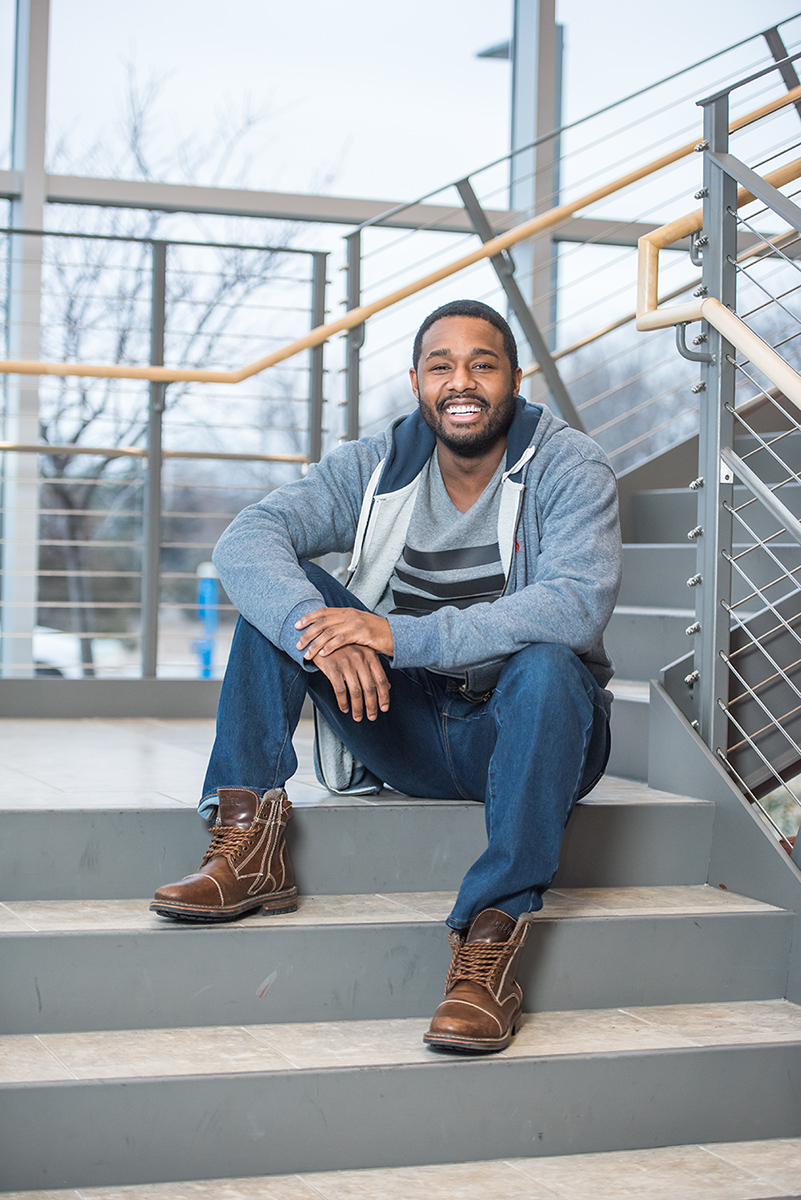 Myron Peterson is currently the general manager at Extended Stay America in Buckhead, Georgia.
In 2019 when this profile was written, Peterson was a full-time assistant general manager at a hotel in Kansas City, Missouri. He also had recently become a first-time father with the birth of his son.
On top of a career and fatherhood, Peterson was completing his bachelor's degree in hospitality management at Kansas State University's Olathe campus.
His decision to finish his degree came after years of working in the hospitality industry without one. Partway through completing his degree at a large university, Peterson decided to drop out of the program with the intention of returning at a later date.
"At the time, I thought the longer I waited to go back to the school, the easier it would be," Peterson said. "But I started to realize that the longer I wait, the harder it's gotten in my daily life, especially now with work and my son. Recently, I started meeting some new people in my life who have been encouraging me to go back to school and I've realized there's no more waiting."
One of those new people in his life was K-State Olathe's professor in hospitality management. The two met at a Hotel and Lodging Association meeting and Peterson told Horton he was considering going back to school.
"He gave me his contact information but I didn't contact him," Peterson said. "So, after a few months, [he] reached out to me and asked if I was serious about this. It was the little push I needed to get me started."
Spring 2019 was Peterson's first semester back in school. He graduated in December 2021.
Why did you decide to finish your bachelor's degree?
"It felt like something was incomplete. I had gotten so far in the first program. When they called about student loans, I thought that I need to finish because I was paying student loans on something I didn't have.
I feel like getting this degree will give me a career advantage and also give me a sense of purpose — like, 'I did it.' I don't like to give up on a lot of things, but when I quit school and put it to the side, I told myself that a lot of people don't finish. But now, I'm really ready to finish."
What were the challenges you had with deciding to go back to school?
"Most of the challenges, I realized, are mental. The only thing that was really stopping me was me. I was just bringing up excuses about how was I going to work 8 hours and then go to class. I realized I just have to do it. I wasted the opportunity when I first got out of school and life was a little easier. So, it was just getting over that hurdle of stop making excuses and instead find a way to get it done."
What have you learned in class that you've been able to apply to your job?
"We read a book called Managing Yourself, and being a manager now, it gave me some insight into some of my weaknesses. Those can be difficult to process and accept if someone is coaching you or telling you about them. But, after discussing the book in class and not having the material be about me, I was able to really look at myself and how I lead. It's moved me in a direction that will give my employees a lot more faith in me to do my job well because I can think about and approach things on a higher level."
What does your life look like with a bachelor's degree?
"Eventually, after I've worked for hotels and saved up the money, I'd like to open my own bed and breakfast or even a hotel. A bed and breakfast would be nice because I could personalize it more. My vision is to work for myself at the end."