Research illuminates whether ultraviolet light can keep hydroponic produce safe
Tuesday, Jan. 31, 2023 | Written by Greg Tammen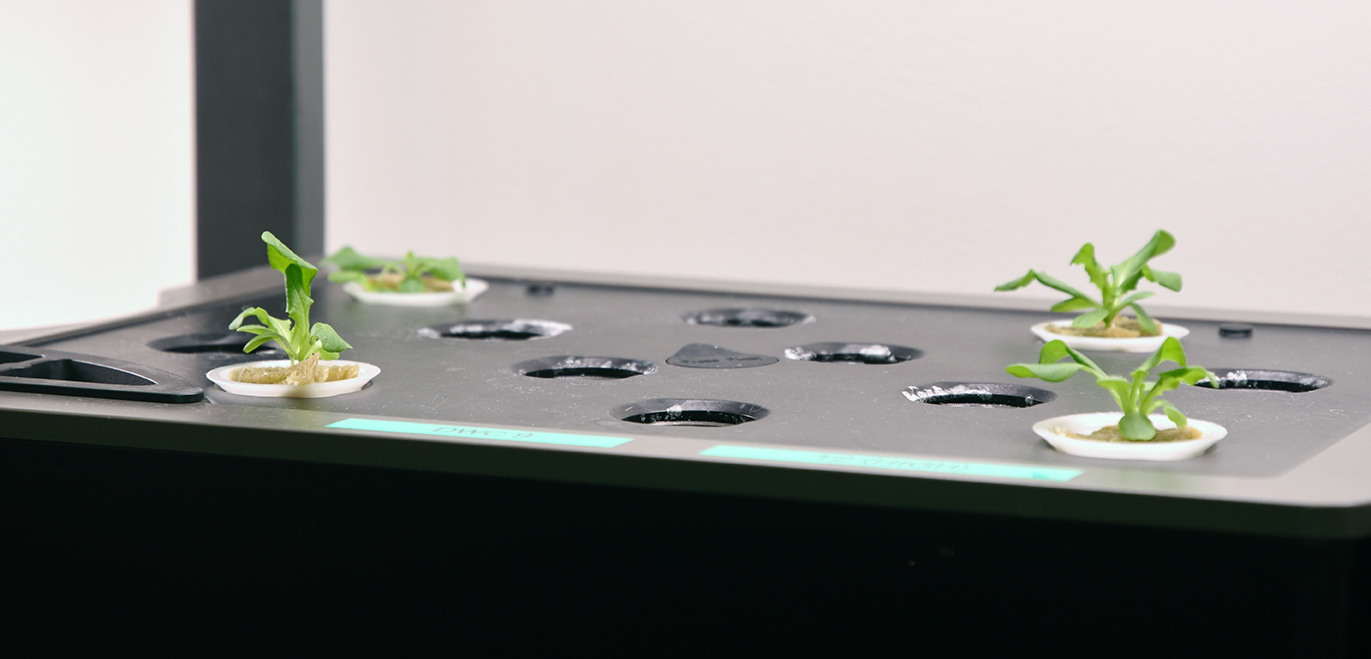 Lettuce plants growing in a hydroponic setup. Each tower is equipped with Wi-Fi, which lets researchers adjust the lighting to fine-tune growing conditions.
OLATHE — A team of researchers at Kansas State University's Olathe campus are looking at whether ultraviolet light can prevent microbial contamination in hydroponically grown crops that could make consumers sick.
The project is led by Manreet Bhullar, Ph.D., research assistant professor of horticulture and natural resources; Teng Yang, Ph.D., teaching assistant professor of controlled environment and agriculture; Eleni Pliakoni, Ph.D., associate professor of urban food production and postharvest handling; Cary Rivard, Ph.D., associate professor of horticulture and natural resources and director of the Horticulture Research Center; Londa Nwadike, Ph.D., assistant professor of food safety and extension specialist; and Markanna Moore, a graduate student in horticulture and natural resources. A few hydroponic farms from Kansas also are collaborating with the team.
The two-year project, "Enhancing microbial safety of hydroponic systems with the use of ultraviolet irradiation," recently received a nearly $175,000 Global Food Systems Seed Grant from K-State's Office of Research Development. These seed grants support innovative research in global food systems, particularly interdisciplinary projects that promote job creation and economic development in Kansas, engage graduate or undergraduate students and partner with Kansas-based industry.
Hydroponics is a method that involves growing food plants in nutrient-rich water rather than soil. This makes it possible to grow fresh produce indoors and anywhere in the world during any season and type of weather while also using fewer resources. Tomatoes, lettuce and other leafy greens are the most frequent crops grown hydroponically.
"Hydroponic systems have a lower risk for contamination as compared to field-grown produce," Bhullar said. "This is because hydroponic is a closed system and crops generally do not come in direct contact with soil, animals, manure, birds and pests, which can potentially carry microbial contaminants. However, it is possible that human pathogens such as E. coli, listeria and salmonella can be introduced into the hydroponic water source during the growing process. If that happens, the contamination can spread to the plants and cause foodborne illness if the contaminated produce is consumed."
Ultraviolet light is germicidal, meaning it can kill germs, and can potentially reduce contamination in hydroponic water sources. To study its effectiveness, the team is conducting a series of tests.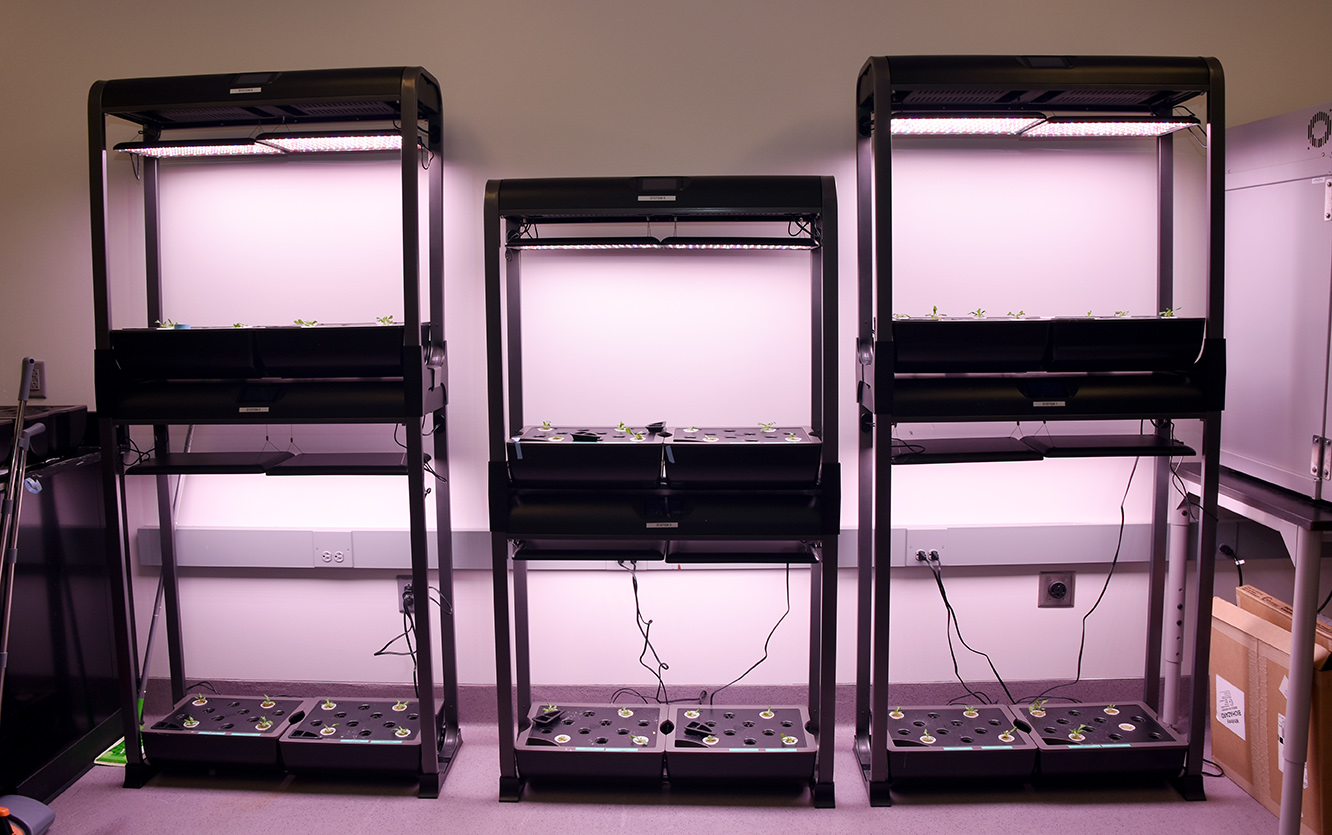 Romaine lettuce heads are grown in a lab using a hydroponic tower system. Each tower, which looks like an open-back metal bookcase, holds 48 heads of lettuce on its shelving and has a full spectrum growing light on each tier. Lettuce heads are housed in containers that use one of two types of hydroponic watering systems: deep water culture or nutrient film technique. In deep water culture, the roots are submerged in standing, nutrient-rich water. In the nutrient film technique, a thin film of nutrient-rich water is continuously circulated around the roots.
Both systems are artificially inoculated with human pathogens to determine their survival in water sources. Each week, researchers look at water samples from the containers to evaluate levels of contamination. Samples from both the deep water culture and nutrient film technique systems are analyzed before and after they are treated with ultraviolet light. Findings will reveal ultraviolet lights' effectiveness and any difference in ultraviolet light's treatment for the two production systems.
Researchers also are testing the nutrient levels in the lettuce after ultraviolet light treatments. This will determine whether the light affects nutrients in the water source, lettuce plants and shelf life in stores.
Once ultraviolet light's effects on water quality and nutrient levels are understood, team members will share their findings with Kansas growers and give demonstrations on how to use ultraviolet light with hydroponic systems. The goal is to develop research-based knowledge and resources that can strengthen and grow the urban agriculture industry in Kansas. Currently, only a few fresh produce growers in Kansas use hydroponics for production compared to neighboring states.
"The initial financial investment in hydroponic systems is steep," Bhullar said. "If more growers, particularly in Kansas, begin growing produce hydroponically, though, it would solve a lot of food problems. Strawberries, leafy greens, tomatoes and other popular foods could be grown year-round in the state."