Greg Tammen
Manager
Communications
Contact Info
913-307-7311
gtammen@k-state.edu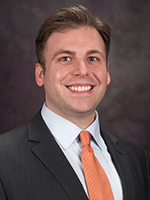 Greg Tammen is the communications manager at
K-State Olathe.
Tammen helps with marketing and communications efforts that support the growth and development of K-State Olathe's academic programs, research, outreach initiatives and workforce development programs.
His duties include writing news releases that are distributed to media outlets, the K-State audience and K-State Olathe's community stakeholders; maintaining the campus' website; generating content for the monthly e-newsletter; developing messaging and advertising; photography; and more.
News releases written by Tammen have led to stories about the university's research being published in numerous outlets, including in The New York Times, Bloomberg Businessweek, National Geographic magazine, Smithsonian magazine, USA Today, The Wall Street Journal and on IMDB's website. His stories also have aired on NPR's "Morning Edition" and "All Things Considered," and on morning talk shows, including the Today Show and Good Morning America.
He has received multiple awards for his writing and strategic communications.
Tammen is a member of the communications stakeholder team for the BioNexus KC.
Prior to joining K-State Olathe's marketing team in January 2016, Tammen worked as the senior science writer/communications specialist for the Division of Communications and Marketing at Kansas State University from July 2010-December 2015.
Tammen earned his bachelor's degree from Fort Hays State University.