Capabilities and client base grows for food industry, entrepreneur resource
Thursday, April 15, 2021 | Written by Greg Tammen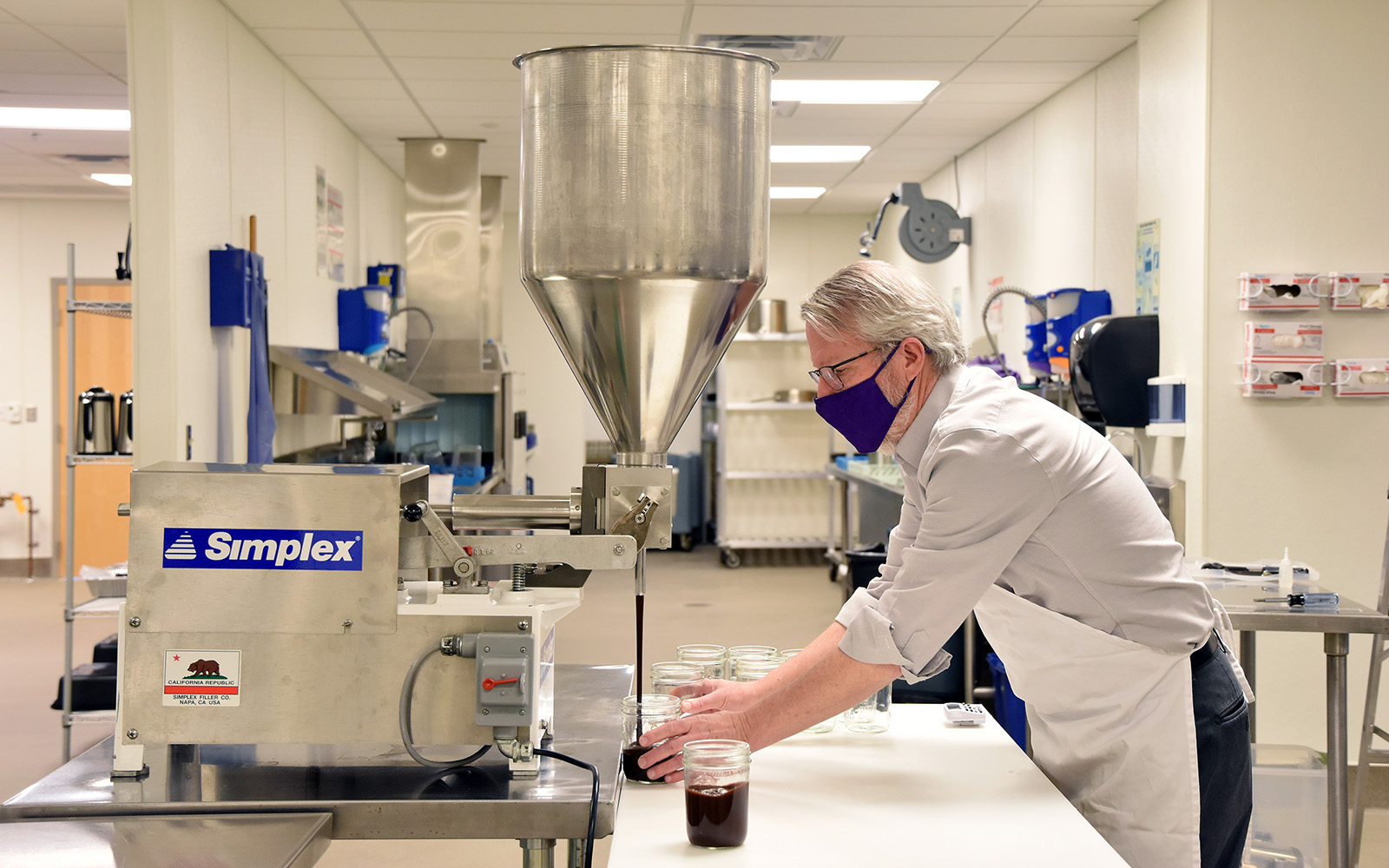 Bryan Severns, manager of food programs and services, uses the new Simplex AS-1 semi-automatic filler to jar homemade chocolate sauce.
OLATHE — The Food Innovation Accelerator, or FIA, is cooking up success at Kansas State University Olathe's campus.

In 2020, the FIA expanded its capabilities and saw its clientele triple.

The FIA is a physical resource for food-based entrepreneurs and the food product and ingredient industry. The FIA consists of accelerator consists of five unique kitchens, industry standard equipment and is backed by K-State's more than 150 years of food science and food processing knowledge. Clients can use its resources to start a new product line; scale up production; test the quality, nutrition and microbial content of their food; and receive consulting about regulatory and food safety issues.

It is operated by Bryan Severns, manager of food programs and services, who is a trained chef and food safety expert.

A Simplex AS-1 semi-automatic filler was recently added to the kitchen to expand food packaging capabilities. The machine fills containers up to 32 oz. in size with a pre-set level of beverages, honey, sauces, creams, pastes, pickle relish or fresh salsa using a "hot fill" canning process — the industry standard process for bottling foods. The filler's piston stroke and canister size can be adjusted to change the speed at which product is pushed through the nozzle and the amount of product that is released into a container.

A 6 oz. jar can be filled in 6 seconds at the slowest setting.

"The ability to fill containers efficiently, cleanly and consistently is a real game changer for our space," Severns said. "It enables our clients to do more and opens us up to new clientele who need to quickly and safely bottle their products. We have clients who are looking at making tea and bottling honey, barbecue sauces, salsas and chocolate sauce. Now they'll be able to do that easier, faster and more hygienically."

The year also saw increased business as clientele tripled in 2020 to 18.

Severns attributes the growth to several factors, including entrepreneurs deciding to scale up and the COVID-19 pandemic.

"The pandemic accelerated things," Severns said. "For some of my clients, they were working from home, had some savings built up and decided to pursue the idea they had been thinking about for a while because the timing was right. For others, it was easy to pivot their business to a different model, such as dropping off food rather than setting up a pop-up stand at a location."

With the user growth comes improvements to the facility, such as the Simplex filler and others that support current and future businesses.

Severns makes improvements to the space by listening to his clients about their needs and watching them work to see what challenges they run into while making products. Sometimes these are equipment based. Past solutions have involved adding a second 20 qt. mixer and a wood topped table so that dough making was easier and doughs could be kneaded on a nonstick surface versus the stainless-steel tabletops. Others involved setting up a grease bin by the loading dock to make grease disposable possible and upgrading the kitchens' electrical and plumbing infrastructure.

While Severns continues to expand the accelerator's functionality for its clients, he said the goal is to see them become successful enough that they are able to "graduate" into their own location or work with a copacker who can put their products on store shelves.

Two clients recently made that jump.

Three Bears Bakery and BBQ opened a store in Lenexa. It began using the Food Innovation Accelerator to scale up its goods for farmers' markets. Three Bears is owned and operated by a husband and wife who make low-carb, diabetic-friendly, artisan baked goods. Their entire product line is keto-friendly and includes breads, cakes, pies and barbecue sauce.

KC Biscuit Company produces and distributes frozen biscuit dough to Hen House and Fresh Out Foods grocery stores under the Perfect Square brand name. The biscuits are made with real butter and buttermilk.

Learn more about the Food Innovation Accelerator and its clientele at olathe.k-state.edu/fia.