VBS Alumni Profile
Brittany W.
Fall 2019 Graduate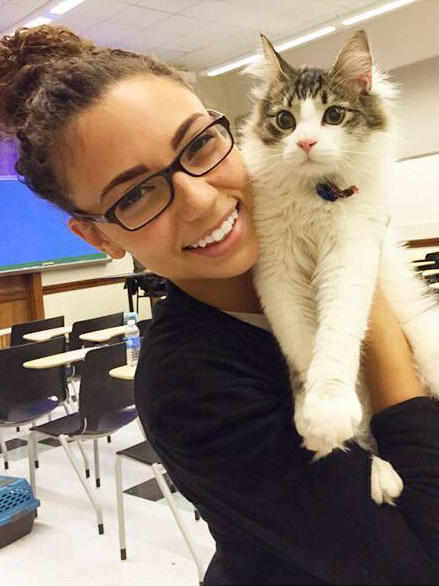 Brittany Wilhite is a fall 2019 graduate of the veterinary biomedical science program at Kansas State University's Olathe campus.
She enrolled as a full-time student in fall 2018 and completed the program in a year. Her work focused on the current challenges in controlling diseases in ruminant animals that are associated with three types of mycoplasma.
Simultaneous to completing coursework for the master's program, Wilhite spent summer 2019 completing an optional internship with Merck Animal Health, which she learned about through a classmate who worked at the company. Through the internship and veterinary biomedical science program, Wilhite was able to learn more about the industry side of animal health compared to the clinical side she was accustomed to from her undergraduate program.
Choosing K-State Olathe
Wilhite said the decision to enroll in the veterinary biomedical science program at K-State Olathe was a fairly easy one.
"Before I even applied to K-State Olathe, I was curious about the program, so I talked with Dr. Paige Adams and Kimberly Ramacciotti in student services," she said. "They were super helpful, so I thought that was a really good indicator about the quality of the program."
After getting accepted, Wilhite and her father drove the 3,400 miles from Fairbanks, Alaska, to Olathe, Kansas, so that she could take classes in-person versus doing her degree online.
Career plans
With the veterinary biomedical science degree, Wilhite plans to attend veterinary school and earn her D.V.M. so that she can go into mixed animal practice — a field of veterinary medicine that that works with large animals, such as horses and livestock, and companion animals, such as dogs and cats.
Becoming a veterinarian has been her career goal since childhood.
"I'm one of those people who loves animals of all sizes and because of that, I've wanted to be a vet my whole life," Wilhite said. "That human-animal connection is something I feel and something I'm interested in. Plus, as a mixed animal practitioner, I'll be working with cows and dogs, which makes happy."
She was recently accepted into the University of Alaska Fairbanks/CSU Collaborative Veterinary Program.
What is your bachelor's degree in?
I have a bachelor's in animal science with a pre-vet research focus from Rutgers University.
Why did you decide to earn your M.S. in Veterinary Biomedical Science at K-State Olathe?
I wanted to pursue a master's degree to help get into veterinary school. I wanted something that I could get done pretty quickly and I didn't want to do a thesis. Cost and the curriculum also were important. I got into three different grad schools. When I weighed those factors and considered how helpful everyone had been in answering my questions, I felt like K-State Olathe was the best fit.
What is the student experience like at K-State Olathe?
It's been a really good experience being a student here. It's interesting being a full-time student because it's not a traditional campus. Everybody is working during the day and mostly taking classes at night. Because of that, it's a lot more focused and career-driven than the undergraduate experience.
How has the veterinary biomedical science degree contributed to your career?
Having my VBS degree will help me get into veterinary school, which I'll be applying to soon. I also gained a breadth of knowledge about how the industry works. So, even though I want to be a mixed animal practitioner after I get my D.V.M., I feel like there are more career doors open to me than before I because of the program.
More alumni profiles
/academics/programs-graduate/masters/veterinary-biomedical-science/student-profiles/index.html
Y
purple
medium-basic
More alumni profiles