Kimberly Voight
Director
Student Services
Contact Info
913-307-7313
kvoight@ksu.edu
Kimberly Voight joined K-State in August 2015
as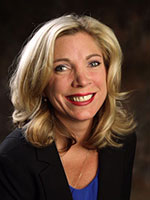 the Director of Student Services.
In this role her primary responsibilities include developing
enrollment initiatives, implementing retention strategies and providing student centered services. Her position offers support for students from the moment they inquire to graduation and beyond. Additionally, she works closely with marketing on the production of campaigns that engage prospective students, area industry leaders and alumni.
Kimberly is very passionate about fostering a supportive campus environment, and she enjoys working closely with students to aid in their success.
Prior to this role Kimberly spent five years as the Director of Admissions for a graduate school of professional psychology in Springfield, Missouri. She also worked in a private practice and taught undergraduate courses in the social sciences.
Along with her Bachelor of Science in Communications, she earned her Master of Science in Counseling from Missouri State University.