University and KC employers, collaborators use summer activities to engage first-generation students
Friday, Oct. 12, 2018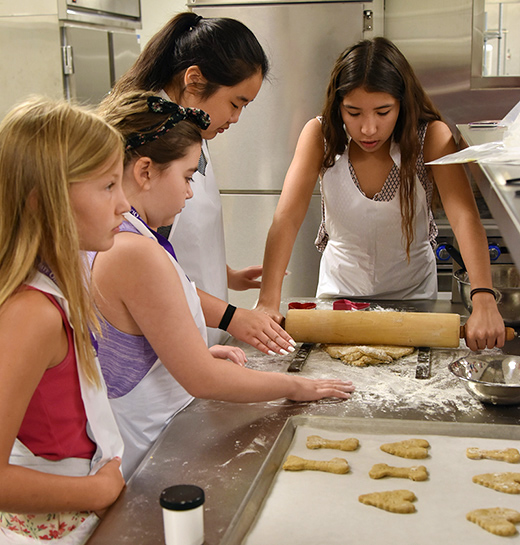 Middle school students in the All About Animals STEM summer camp make pet treats under the guidance of the IGP Institute.
OLATHE — Hundreds of students in grades K-12 spent part of their summer learning advanced scientific concepts and skills while also exploring pathways to college and careers as part of a region-wide effort by Kansas State University and Greater Kansas City.

Kansas State University's team in Olathe played a pivotal role in connecting hundreds of middle school and high school students from underrepresented populations in Kansas City, Kansas, to dozens of colleges, departments, units and resources at the university's Manhattan campus. Businesses, school districts, alumni and families in Greater Kansas City also were tapped for programming.

Together, they developed a series of interactive summer activities that introduced K-12 students — particularly first-generation students in underrepresented populations — to advanced concepts in science, technology, engineering and mathematics, or STEM. The goal was to begin establishing pathways to post-secondary education for the students and start building a talented future workforce in high-demand career areas that meet the region's needs.

"Fewer Kansas students are choosing to earn a higher education degree in part because of shifting demographics, parents not having a post-high school degree and families not having access to college entry resources," said Pat Bosco, Kansas State University vice president for student life and dean of students. "By establishing a sustained relationship with hundreds of first-generation students and their families on a weekly basis, Kansas State University was able to begin bringing much needed resources to many underrepresented communities."

Programming included week-long camps centered on food science, food safety and animal science; day-long activities built on STEM fields and the industry needs; and workshops on ACT preparation and enrollment resources.
K-State Friday
Summer saw the introduction of the K-State Friday series, which was organized with Kansas City, Kansas, Community College, or KCKCC, to help enrich its long-standing Kids on Campus summer program for K-12 students in Wyandotte County.

Each Friday throughout June and July, a different Kansas State University college, department or unit led a day-long activity for hundreds of middle school and high school students in KCKCC's Kids on Campus summer program. Activities covered food safety, community gardening, healthy eating, parasites found in pets, pollinators, careers in animal science, landscape architecture and hospitality, and more. Students also visited the Manhattan campus, toured iconic lodging destinations in Greater Kansas City and explored downtown Kansas City, Missouri, where they learned about some of the metro area's historic architecture and monuments.

"Employers, several of whom are university alumni, gave students behind-the-scenes look at how their business operated and talked to the students about the skills needed in that career field," said Laura Loyacono, director of community and education engagement at K-State Olathe, who specializes in engaging K-12 students in STEM programs and oversaw the summer activities. "We were excited to include employers in this series because it personalized the visits and got the kids thinking more long-term about their future."

Each K-State Friday activity consisted of 250-325 students in grades five through 12 from USD 500 — Kansas City, Kansas, Public Schools. Sixty percent of the students were Hispanic while 35 percent were African American and 5 percent were Caucasian.

Kansas State University units that led activities were the Office of Diversity; Colleges of Veterinary Medicine, Engineering and Architecture, Planning & Design; K-State Research and Extension; New Student Services; Department of Hospitality Management department; and K-State's Olathe campus and affiliated extension agents.
Summer camps
During the summers, K-State's Olathe campus also hosted two camps for middle school students designed to introduce students to the university's STEM programs, particularly animal science and food science and safety. Nearly 35 students attended the camps, which ran each morning for a week.

In planning the camps, organizers used expertise of Manhattan-based faculty as well as faculty at K-State Olathe's campus to provide an age-appropriate curriculum that supported the state math and science guidelines. Faculty and others delivered engaging, hands-on activities for students, which included field trips, preparing a full meal using fresh ingredients, making pet treats with graduate students from the IGP Institute and more. At the end of each camp, students presented their work to friends, families and invited guests.

In an effort to maximize reach, Kansas State University and the University of Kansas' Edwards Campus worked together to market the camps and to provide scholarships for students who may not have been able to afford the camp registration fee. Shawnee Mission and Olathe school districts helped the universities identify first-generation students who demonstrated an interest in science for the scholarships, naming them Summer STEM Scholars.
College enrollment
Kansas State University is following up with the parents of STEM Scholars to determine how to promote a college-going culture in the household and what additional opportunities are available to the students in middle school and throughout high school, Loyacono said. They also are working with schools to guide students to additional opportunities in middle school and throughout high school.

Kansas State University offered a free ACT prep workshop for all high school participants in Kids on Campus. Current students and recent alumni provided support and mentorship to students at the workshop. Similarly, middle and high school students attended a mini college and career fair at the American Royal Complex that helped first-generation students and their families navigate the complexities of enrolling at a higher education institution.

Most recently, STEM Scholars and their families attended an event at K-State Olathe that provided information about how to best prepare for college and careers. Information and materials were provided in both English and Spanish.

To explore collaborations with K-12 students in Greater Kansas City and grants to fund these efforts, contact Loyacono at 913-307-7384 or loyacono@k-state.edu.