Student scholarships awarded at Kansas City One Health Day
Friday, Nov. 9, 2018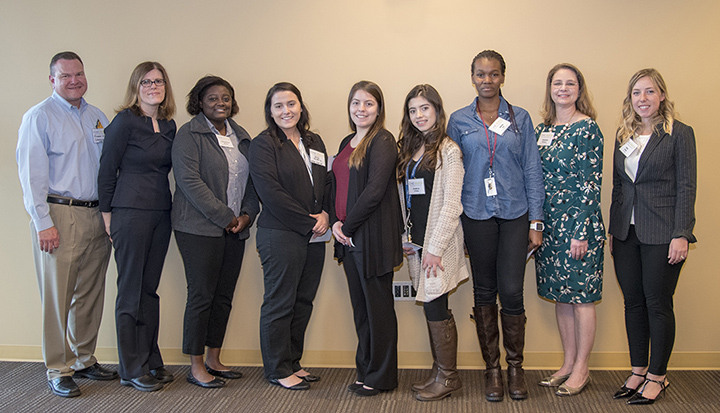 Students who received scholarships at Kansas City One Health Day pose with representatives from Elias Animal Health, Grafton Staffing Co. and the Veterinary and Biomedical Research Center, which funded the scholarships.
OLATHE — Five students are receiving scholarships in recognition of their One Health-centric research.

The scholarships are part of the recent Kansas City One Health Day. The annual event is organized by Kansas State University, BioKansas and BioNexus KC. It celebrates and spotlights the importance of the complex interrelationships of human, animal and environmental health to the general public. This year's theme was outsmarting antibiotic resistance and the event included a student poster competition.

Sixteen students from Kansas and Missouri high schools, community colleges and universities competed in the poster contest, which included research on cancer development and detection, rapidly detecting Shiga toxin-producing E. coli in beef, metals from mining waste being leached into floodplain sediments, and more.

"Everyone was extremely impressed with the high quality research that these young scientists are doing," said Martha Nowak, K-12 program coordinator who organized the competition. "Greater Kansas City has outstanding up-and-coming talent and One Health Day was a wonderful platform for some of these high school and college students to share their work with a broader audience."

Students discussed their research with a panel of judges and the events' more than 140 attendees. Judges awarded points in multiple categories, which were used to select winners at the high school, undergraduate and graduate student levels.

The scholarships were made possible by Elias Animal Health, Grafton Staffing Co. and the Veterinary and Biomedical Research Center.

High school scholarship winners were Anita Orjil of Washington High School in Kansas City, Kansas, for "Expression Profile of microRNA-10b and microRNA-506 in Non-small Cell Lung Cancer" and Andrea Villeda of Wyandotte High School in Kansas City, Kansas, for "Cerebral Blood Flow Response During Exercise After Stroke."

Brianna Salgado of Kansas State University's animal sciences and industry program won the undergraduate scholarship for her project, "Development of Local Kansas E. coli UTI Antibiograms to Improve Antimicrobial Stewardship in Companion Animal Medicine."

Graduate student winners were Cheyennae Barbee of Kansas City University of Medicine and Biosciences for "Study of Xpna Anemic Mice Suggests Existence of a Novel Factor Impacting Erythropoiesis," and Sarah Remfry of Kansas State University for "Prevalence of Shiga toxin-producing Escherichia coli, a major foodborne pathogen, in swine feces."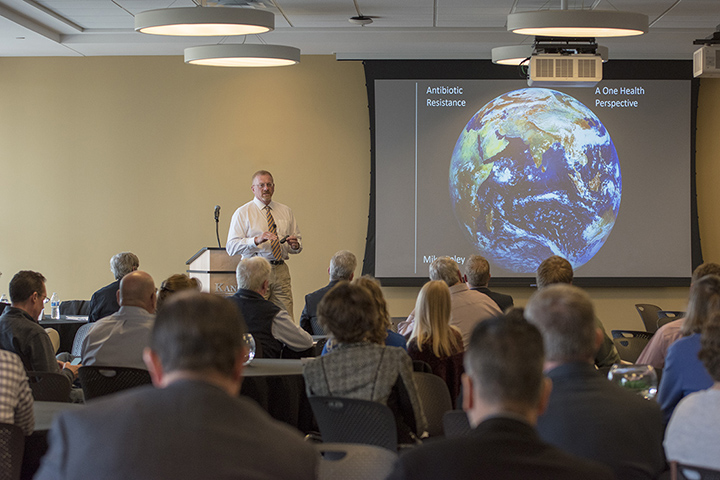 Kansas City One Health also included a keynote about antimicrobial resistance from Mike Apley, Frick professor of production medicine/clinical pharmacology at Kansas State University. He is one of 15 voting members on the Presidential Advisory Council on Combating Antibiotic-Resistant Bacteria, which provides advice, information and policy and program recommendations about antibiotic-resistant bacteria to the U.S. Department of Health and Human Services.

"Resistance doesn't always mean that there is no treatment; it often means that it will take longer to figure out a treatment method," Apley said.

Successfully overcoming antibiotic resistant bacteria takes a multifaceted approach — with one of the biggest components being changing our current use of antibiotics and our behavior around them, Apley said. Approaches include using non-antibiotic substitutes to combat or prevent diseases whenever possible, only using antibiotics for major incidents, relying more on telemedicine and offering economic incentives for reduced antibiotic use.

Kansas City One Health Day concluded with a discussion panel consisting of Masako Mizusawa, assistant professor of infectious diseases, University of Missouri-Kansas City and Truman Medical Center; Michael T. Meyer, director of the U.S. Geological Survey's Organic Geochemistry Research Laboratory; Nadyne Hagmeier, quality improvement consultant at the Kansas Foundation for Medical Care Inc.; and Apley.

Panelists explored the topic in more depth, looking at aspects through a human health, environmental health and animal health lens, and answered questions from the audience.