Nearly 250 K-12 students compete in contest to increase STEM knowledge
Thursday, Dec. 13, 2018

Students brought their leafy greens to Kansas State University's Olathe campus to have the biomass evaluated. Faculty, students and partners provided activities and information about plant health and food safety.
OLATHE — Kansas State University and teachers in Greater Kansas City recently served science with a side salad to nearly 250 K-12 students who participated in a leafy greens growing contest designed to teach them about plant growth.

Willie and the Salad Bonanza challenged student teams in grades K-12 to grow the largest amounts of Space Hybrid spinach, Lacinato kale and Black-Seeded Simpson lettuce in a single container over the course of 47 days. At the end of the allotted time, teams brought their plants to the university's Olathe campus, where the students could scientifically measure the effectiveness of their horticulture methods.

"The contest is designed to teach students about the science involved with plant growth and help them form a better connection between food production and personal consumption," said Martha Nowak, K-12 coordinator at Kansas State University's Olathe campus and contest organizer. "Students were able to apply concepts about plant growth that they have learned in school into a hands-on project that let them see the effects of their knowledge and decisions."

The annual contest, which aligns with the Next Generation Science Standards, is a collaboration by Kansas State University's Olathe campus, Food Science Institute, department of horticulture and natural resources and the K-State Horticulture Research and Extension Center, along with Compass Minerals, 4-H and public schools.

A record 246 students from various grade schools, middle schools and high schools in Greater Kansas City participated in the 2018 competition.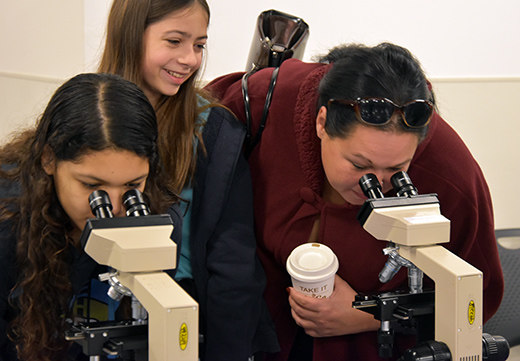 At the start of the contest, student teams were given seeds for the spinach, kale and lettuce plants. Each team determined what type of container and growing medium to use, with some teams opting to build their own container versus using a store bought one. Teams also determined what fertilizer — if any — to use, watering schedule, lighting and temperature would produce the best growth. Students documented their efforts throughout the project.

On the 48th day, teams brought their container of leafy greens to the Olathe campus, where volunteers and graduate students from K-State Research and Extension and the horticulture and urban food systems program helped measure the plants' biomass and volume of the growing container. Biomass was then divided by container volume to determine winning teams for the elementary, middle school and high school categories.

Kelsey Verhaeghe's class from McDanield Learning Center in Bonner Springs, Kansas, won the elementary category.

A team from Santa Fe Trail Middle School in Olathe, Kansas, won the middle school category. The team was sponsored by Kelsey Carsella and was comprised of students Erica Davies, Elena Martinez, Brooke Ross and Tyler Taylor.

A team from Olathe North High School won the high school category. The team was sponsored by Greg Krenke and comprised of Layla Banks, Nathan Bills, Cooper Brickell and Blayne Kauffman.

The winning schools for each category were awarded a plaque with the name of each team member and team sponsor.

In addition to learning about the results of their plant growth, students and other attendees visited with the horticulture graduate students about their research projects, which range from increasing a plant's food production to better storing the produced food.

Randall Phebus, professor of food safety and interim director of the Food Science Institute, and several undergraduate students brought microscopes with slides of yeast and bacteria as well as mixed salad greens at different points of decomposition to teach about some of the research happening at the Food Science Institute and encourage the students to consider a career in food science.

Representatives from Compass Minerals also shared about the plant nutrition work they do and 4-H members brought insects, plants and other materials to help illustrate region's ecosystem and showcase some of what 4-H members learn about.

"It was a great opportunity for students to learn about some of the careers and research they can do with plants, especially if they enjoyed the growing process in the salad contest," Nowak said.