Cookie entrepreneurs finding sweet success with
K-State Olathe services
Thursday, Oct. 26, 2017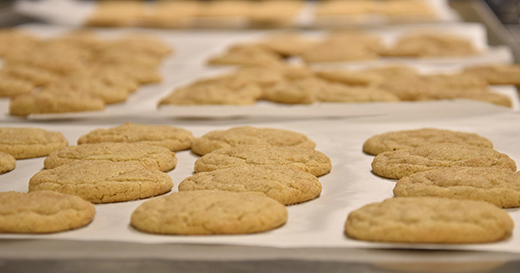 Christina's Cookie Co. made 4,000 cookies for Ciderfest at K-State Olathe. The campus is helping the cookie company scale up its business.
OLATHE — A Louisburg-based cookie startup is adding Kansas State University's Olathe campus to its list of ingredients.

Christina's Cookie Co. is using kitchen space and industry-grade cooking appliances and equipment at K-State Olathe to grow their business. Recently, the company used the venue for a week to bake and package 4,000 cookies for Ciderfest. The annual fall event in Louisburg, Kansas, draws around 25,000 visitors — presenting the company with its largest sales opportunity to date.

Christina's Cookie Co. was started in June by Christina Lewis, a fourth-grade teacher at Broadmoor Elementary School in Louisburg, Kansas. Lewis operates the business in her spare time with her daughter, Hannah.

Currently, the company sells cookies through its online storefront, every other weekend at the Olathe Farmer's Market and at charity events, such as Strutt With Your Mutt, the Platte County Children's Trust and Kansas City Games for Good. The company also has donated cookies to the Susan G. Komen Race for the Cure event and to the Coaches vs. Cancer charity event. Lewis hopes to scale up the business enough that she can eventually open a bakery and turn it over to Hannah.

"Right now, our baking can be done at home in my oven with a little planning," Lewis said. "However, we want to start getting our name out there more by selling at larger events. My single kitchen oven just can't handle baking hundreds or thousands of cookies in a short time to support this next step."

Knowing thousands of cookies would need to be made for Ciderfest, Lewis contacted Bryan Severns, food programs and services manager at K-State Olathe. Severns oversees the campus' Food Innovation Accelerator, which supports food-based businesses by helping them test and refine recipes, scale up operations and more. Christina's Cookie Co. now had the space and equipment it needed.

To prepare for Ciderfest, Lewis enlisted the help of her husband, Joe; daughters, Hannah and Maddie; and her mother, Beth.
In the week before Ciderfest, the family spent 3-4 hours every week night after work and school preparing cookies for the event. Ingredients were mixed; cookies were baked — nearly 900 every evening; baked cookies were packaged and then boxed; and the boxed, ready-to-be-sold cookies were loaded into a walk-in freezer for the weekend festival.
Most of the recipes are family ones that have been passed from one generation to the next.
"I come from a line of bakers and baking has always been something I've loved to do," Lewis said. "As a little girl, I used to bake cookies and cakes with my Easy-Bake Oven. So, doing this on a bigger scale has always been a dream of mine. I'm really excited for more people to start tasting the cookie recipes I grew up enjoying and the same ones I've made for my family."
Visit
christinascookieco.com
to learn more about Christina's Cookie Co. and order from a variety of fresh cookies, including chocolate chip, peanut butter, chocolate chip walnut, sugar and snickerdoodles — their signature cookie.