October 2017 News Releases
Through a collaboration with the nonprofit agency, After the Harvest, the K-State Olathe Horticulture Research and Extension Center donated thousands of pounds of fresh produce to food banks so they could feed the hungry in the Kansas City area.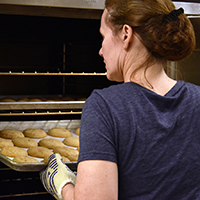 Christina's Cookie Co., a cookie startup in Kansas, is using kitchen space and industry-grade cooking appliances and equipment at K-State Olathe to grow their business. Recently, the company used the venue for a week to bake and package 4,000 cookies for Ciderfest.


Evie Kowalewski joins the Kansas State University Olathe campus as the program coordinator for the associate dean.