Continuing education credit available to Kansas City area veterinarians
Friday, July 28, 2017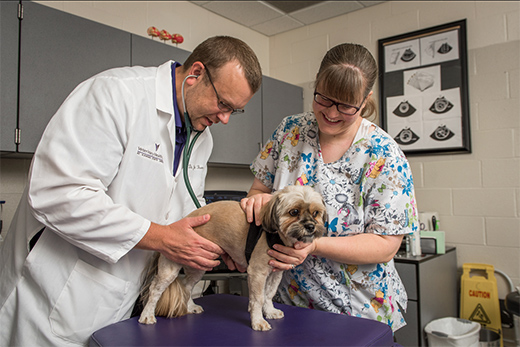 Starting Sept. 6, Kansas City area veterinarians can earn continuing education credits through four short education seminars with Kansas State University veterinarians.
OLATHE — Veterinarians, veterinary technicians and practice managers in Greater Kansas City can earn continuing education credit through a series of animal health-focused education seminars offered by Kansas State University and
K-State Olathe.

The sessions are from 6:30-7:30 p.m. beginning Sept. 6 and are at K-State Olathe, 22201 W. Innovation Dr. in Olathe. Each session covers a different topic and is instructed by veterinarians and faculty in Kansas State University's College of Veterinary Medicine. Topics include exotic pets, pet welfare and career transitioning.

"We're excited to offer this lecture series to the Kansas City area veterinary medicine professionals, who provide such wonderful care for the health and well-being of our pets," said Paige Adams, D.V.M., research assistant professor of veterinary medicine at K-State Olathe.

Adams and Ralph Richardson, D.V.M., dean and CEO of K-State Olathe, helped coordinate the series content and speaker line-up.

Each one-hour education seminar begins with a casual meal followed by a presentation from faculty members in the university's College of Veterinary Medicine. Attendees will be able to network with colleagues and the university presenters.

One hour of continuing education credit is awarded at the end of each session. Participants can earn up to four hours of continuing education credit hours for attending the series. Participants can register for individual lectures at a cost of $50 per session or at $175 for the whole series — a $25 discount. Registering with the discounted price is only available through Sept. 1

The series includes the following topics and faculty members:

• Sept. 6 — "Prevention, diagnosis and treatment of Rabbit Gastrointestinal Syndrome," James Carpenter, M.S., D.V.M., Dipl. D.A.C.Z.M., professor

• Sept. 20 — "Interpreting pet food labels and calculating caloric needs of dogs and cats," Susan Nelson, D.V.M., clinical professor

• Oct. 10— "Veterinary career transitions: Thinking about a change?," Ralph Richardson, D.V.M., dean and CEO of K-State Olathe

• Nov. 8 — "Vaccine reactions: Understanding reaction severity, how to reduce risks and treatment options," Neala Boyer, D.V.M., clinical assistant professor

Registration and more information about each topic and speaker is available at olathe.k-state.edu/vetmedce.