Ralph Richardson
Emeritus Dean and CEO of Kansas State University's Olathe campus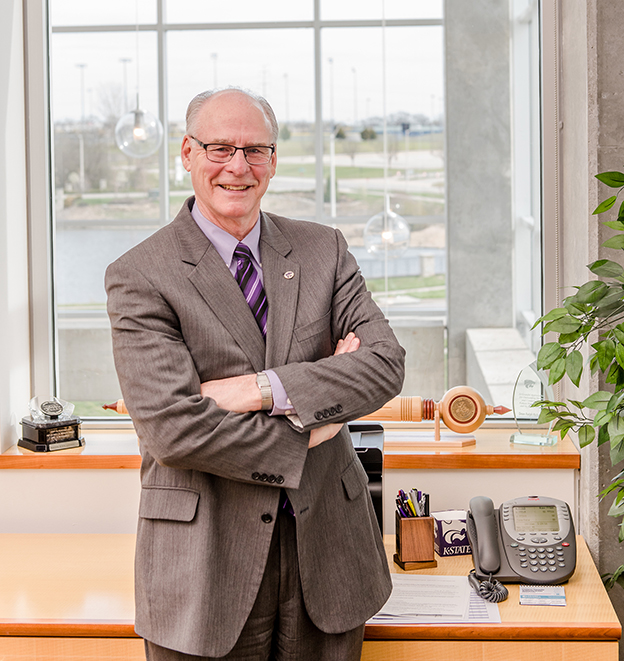 Dr. Ralph Richardson is the emeritus dean and CEO of Kansas State University's Olathe campus. He led the campus from August 2015 until May 31, 2019.
Under Dr. Richardson's leadership, Kansas State University used the Olathe campus to expand its outreach and services to Greater Kansas City to elevate the university's profile in academics, research and service in the region and generate new opportunities for students and faculty.
Dr. Richardson helped establish and oversee numerous partnerships that are being used to develop a recruitment and support infrastructure for Kansas City-based undergraduate students to attend Kansas State University and working professionals to enroll at the university's Olathe campus.
A proponent of student engagement, Dr. Richardson emphasized outreach to the numerous K-12 school districts in Johnson and Wyandotte counties in the form of science-related activities that fostered students' interest as a way to encourage them to pursue an advanced education and a career in high-demand fields.
In partnership with university departments and colleges, several academic programs were added to the campus's offerings that address workforce demand in the region. Programs include the master's degree in school counseling, doctorate in counselor education and supervision, and the professional science master's degree and certificates.
Similarly, Dr. Richardson focused on increasing engagement and collaboration with industry partners to create new opportunities in research and education for working adults, graduate students and faculty. Several businesses and organizations established presences at the campus, including Ceva Animal Health, Maxxam Analytics, the American Association for Industry Veterinarians and Digital Sandbox KC — a program through the city of Olathe that provides funding and resources for entrepreneurs.
Dr. Richardson joined Kansas State University in 1998, serving as dean of the university's College of Veterinary Medicine for nearly 20 years. Under his guidance, the college experienced increased student enrollment; raised more than $72 million in private support for scholarships and seven permanently endowed professorships; introduced the Veterinary Training Program for Rural Kansas, which offers a debt repayment incentive for graduates to work in rural practices in Kansas; increased faculty and staff numbers, with many receiving national and international attention for their teaching, research and service efforts; aligned research and educational programs to meet the needs of the federal government's National Bio and Agro-defense Facility, or NBAF, which is being built just north of the college; and much more.
He came to K-State after one year of private practice in Miami, Florida, and 22 years at Purdue University, leaving there as professor and head of the Clinical Sciences Department. At Purdue, he helped establish an ongoing comparative oncology program, utilizing naturally occurring cancer in pet animals as models for people. During that time, he also consulted in private practice in Chicago.
Dr. Richardson is a Diplomate of the American College of Veterinary Internal Medicine (Specialty of Internal Medicine) and a Charter Diplomate in the American College of Veterinary Internal Medicine (Specialty of Oncology). He served in active roles on the Agribusiness Council of Kansas City and the Olathe and Greater Kansas City chambers of commerce. He is Past President of the Veterinary Cancer Society, the Specialty of Oncology in the American College of Veterinary Internal Medicine, and the American Association of Veterinary Clinicians. He is a member of numerous professional veterinary medical associations and organizations.

Dr. Richardson graduated from Kansas State University College of Veterinary Medicine in 1970. He served as a captain in the United States Army Veterinary Corps from 1970 to 1972. He fulfilled an Internship at Purdue University in Small Animal Medicine and Surgery in 1973 and a Residency at the University of Missouri-Columbia in Small Animal Internal Medicine in 1975. In 1978 Dr. Richardson completed a Training Program in Clinical Oncology at the University of Kansas Medical Center-Kansas City.
Dr. Richardson and his wife Beverly have three grown children and live in Olathe, Kansas.
****
Dr. Ralph Richardson is the older brother of Dr. Dan Richardson, who was the first dean and CEO of Kansas State University's Olathe campusand served in the role until June 2013.
Dr. Dan Richardson is a Kansas State University veterinary medicine alumnus who brought 15 years of experience as a faculty member in higher education and 20 years of experience in the animal health industry. He was instrumental in working with the Kansas Bioscience Park and the Johnson County Education Research Triangle on the one-eighth cent sales tax proposal to fund building K-State Olathe, which taxpayers approved in 2008. The ongoing tax support has made it equivalent to one of the nation's largest endowments ever to a higher education public institution initiative.