Adult education program undergoes name change
Tuesday, July 25, 2017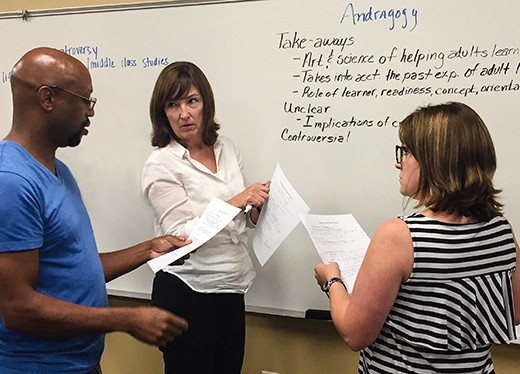 Students enrolled in the adult learning and leadership program at K-State Olathe participate in a group activity.
OLATHE — The College of Education's adult and continuing education program at Kansas State University is updating its name to better reflect its comprehenstive nature. Effective immediately, the program's name is adult learning and leadership.

The adult learning and leadership program is offered at the Manhattan, Olathe and Global campuses, as well as to military officers at Fort Leavenworth. The name change was recently approved by the Kansas Board of Regents.

According to David Thompson, chair of the department of the educational leadership, adult learning and leadership better reflects the unique skills and education students receive in the high-quality programming at the master's and doctoral level.
"We wanted to clarify what is unique about our program and what separates it from other programs in Greater Kansas City," said Royce Ann Collins, associate professor of educational leadership and director of K-State Olathe's program. "Our faculty specializes in leadership and the art and science of teaching adult learners. This involves effective communication, relationship building and human dimension skills that adults from a wide variety of professions can use."

The adult learning and leadership program at K-State Olathe specializes in the following topics:

• Human dimension skills, such as managing team dynamics and conflict
resolution
• Becoming an emotionally intelligent leader/facilitator
• Learning and processing styles
• Motivating adults
• How to become a better learner
• Teaching and learning
• Program development and evaluation
• Curriculum development
• Technology/social media/gaming
• Workforce development, and more

Learn more about the graduate degrees and certificates in the adult learning and leadership program at K-State Olathe by visiting olathe.k-state.edu/leadership.