Debbie Kirchhoff directing strategic efforts at
K-State Olathe
Thursday, May 26, 2016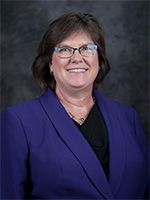 OLATHE — Kansas State University Olathe has named Debbie Kirchhoff as the executive director of strategic initiatives, effective May 23. She was named following a search.

In her new role, Kirchhoff will be responsible for community engagement and outreach in the Greater Kansas City region and identifying opportunities for new initiatives that align with the strengths of Kansas State University. In return, K-State Olathe becomes a springboard for growth opportunities for Kansas State University.

"Debbie brings a wealth of expertise with her roots in the Greater Kansas City area and ties to Kansas State University and K-State Olathe," said Dr. Ralph Richardson, dean and CEO of K-State Olathe. "She will be instrumental to helping K-State Olathe grow and build the highly educated workforce and research partnerships that Kansas City demands for the science, technology, engineering and mathematics professions. We are excited to welcome Debbie and look forward to her leadership."

Kirchhoff's duties include building relationships with industry and government, developing program plans, securing funding and assisting university faculty and staff in pursuing and accomplishing those plans. She also will evaluate and monitor the program's effectiveness in assuring industry, government and university needs and goals are being met.

"I am excited about the opportunity for K-State Olathe and the impact the campus will have on our community," Kirchhoff said. "This new position will allow me to help grow the new campus, bridge relationships from Kansas State University's Manhattan and Polytechnic campuses and meet the needs of the Kansas City region I have called my home my entire life."

Kirchhoff brings more than 25 years of corporate relations and community engagement experience in the Greater Kansas City region. Prior to her new role at K-State Olathe, she served as director of development for the university's College of Veterinary Medicine starting in 2014. She also served as the director of corporate foundation relations at the Kansas State University Foundation from 2011-2014, during which she she was stationed at K-State Olathe.

She holds the Certified Fundraising Executive designation from CFRE International. She earned her bachelor's degree in business from Kansas State University and her Master of Business Administration from Mid-America Nazarene University.

Kirchhoff has lived in Johnson County, Kansas, most of her life. She currently lives in Olathe with her husband and two children.