Professional Science Master's degree
This 30-credit hour advanced graduate degree is for professionals in the animal health and food security sectors who aspire to managerial and supervisory roles in their laboratory, unit or business. The degree program fuses advanced scientific knowledge with core competencies necessary for leadership positions.
What is a PSM degree?
A Professional Science Master's degree, or PSM, is an industry-focused graduate program that provides advanced training in the sciences while simultaneously incorporating professional skills highly valued by employers.
Nationally, there are more than 300 PSMs at more than 150 institutions. Many of the programs are located on the east and west coasts, but Kansas and Missouri both have two PSM programs.

Kansas State University's Professional Science Master's program is distinctive for its course offerings in animal health sciences.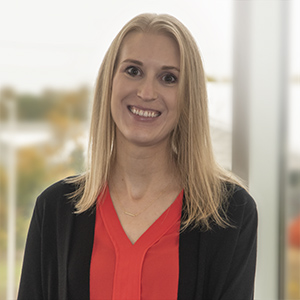 Alumni Success Story
Learn how Emily Overmyer and other alumni advanced their career goals with a Professional Science Master's degree. | Learn more
Program Features
• Practical, real-world application and in-demand business skills for career advancement.
• A unique professional program designed to prepare students for direct entry into a variety of science-related career options in industry, business, government and nonprofit organizations. Graduates are equipped with skills that will help them progress into leadership roles.
• Cross-disciplinary education.
• Science-related courses focus on animal health and food safety and security. Content areas include:
Animal science
Food science
Horticulture
Consumer science
Veterinary biomedical sciences
Leadership
Management
• Core competencies students learn include:
Interpreting and applying data
Managing ambiguity
Project management
Building effective teams
Complex problem solving
• Short completion time. It typically takes two years to earn a degree.
• Access to the industry mentor program. PSM students also have the opportunity to have a faculty mentor and, for those doing an internship, an internship mentor, arranged through their academic advisor.
Stackable Credentials
As part of the PSM program, K-State Olathe offers stackable credentials in the form of two graduate certificates. Both certificates plus a capstone experience can be completed while earning the PSM degree.
• Professional Interdisciplinary Sciences graduate certificate
• Professional Skills for STEM Practitioners graduate certificate
Tuition Cost
This 30-credit hour program is offered at K-State's Olathe campus and online. Tuition rates vary depending on the department and delivery method for each course.
As of the 2019 academic year, the average cost is as follows:
• Part-time student (all Olathe courses) — $16,406
• Full-time student (all Olathe courses) — $15,641
• All online — $17,037
K-State's Olathe campus offers in-state tuition, regardless of where students live.

Additional Information