Jackie Spears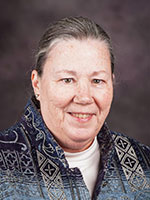 Dr. Jackie Spears is the acting associate dean for academic affairs at K-State Olathe. She oversees and guides the undergraduate degree completion and graduate programs at the campus as well as enrollment and recruitment efforts. She was named to position on Sept. 9, 2018.
Prior to the appointment, Spears served as a professor of curriculum and instruction at Kansas State University's Olathe and Manhattan campuses and director of the Center for Science Education in the College of Education at the Manhattan campus.
At K-State Olathe, her focus is on helping school districts and higher education strategically reform and improve students' education in the science, technology, engineering and mathematics — or STEM — fields so that their knowledge and skills better translate to industry needs.
Spears is collaborating with the Shawnee Mission School District on research and reform efforts that better connect K-12 STEM education with workforce needs in the Greater Kansas City area and across the U.S. She also is looking at how to get youth excited about the STEM fields so that they pursue these majors when earning a university degree.
She also is working with higher education on putting more emphasis on bachelor's and master's degrees in STEM fields. This is intended to increase the nation's skilled labor force and help the U.S. address its projected shortage of 1 million fewer professionals in the STEM fields than are needed in the next decade.
At the Manhattan campus, Spears is a collaborator on several projects involving K-12 outreach efforts — including for research being conducted on the wheat genome at K-State's Applied Wheat Genomics Innovation Lab as well as for an EPSCoR grant focused on atomic, molecular and optical sciences at the James R. Macdonald Lab in the physics department.
She is a founding member of the Kansas City Area Educational Research Consortium (KC-AERC), a collaboration among research at the University of Missouri at Columbia, University of Missouri at Kansas City, University of Kansas, and Kansas State University. KC-AERC conducts research and evaluation projects specific to educational programs and needs in the Greater Kansas City area.