Lehman named academic program coordinator
Tuesday, April 5 | Written by Greg Tammen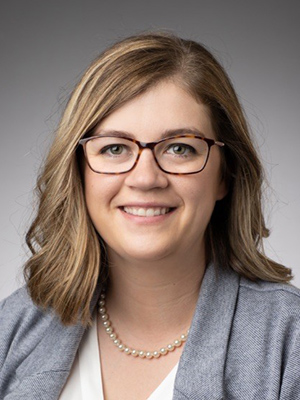 OLATHE — Caelee Lehman joins Kansas State University's Olathe team as the academic program coordinator, effective April 3.

Lehman will provide academic support that helps the School of Applied and Interdisciplinary Studies deliver programs and services to Greater Kansas City. She will facilitate the campus scholarship programs, coordinate course schedule development and manage the approval process for new or changing curriculum.

"We are excited to welcome Caelee to the K-State Olathe team," said Jackie Spears, interim dean and CEO at K-State Olathe. "She brings a great deal of higher education knowledge from various roles, which will be beneficial to K-State Olathe as we continue to grow our academic programming."

Prior to joining K-State Olathe, Lehman was the assistant director of student affairs at Research College of Nursing since December 2019. She assisted in the tracking and maintaining of all major calendar dates as a member of the calendar committee and primary event planner for the college. She also served as the lead for maintenance repairs and updates and event planning to the campus' main common spaces in the summer of 2021.

While at Research, Lehman solved one of the university's biggest academic challenges: What to do with students who failed their first semester of nursing school, as it created issues with housing, financial aid and staying connected to the college. She proposed a remedial course that helps these students learn the basics and stay enrolled and engaged with the university.

Her other experience includes serving as the assistant director and co-op program coordinator for Career Services at Rockhurst University in Kansas City, Missouri, for three years; as the events coordinator and gift officer for the College of Saint Mary in Omaha, Nebraska for a year; as the director of student leadership and organizations for the College of Saint Mary for three years; and as a graduate advisor for the Union Program Council at Kansas State University for two years.

Lehman earned her B.F.A. in Career and Professional Communications from Emporia State University and her M.S. in Counseling and Student Development from K-State. She will begin coursework for her Ed.D. in Higher Education Administration at Baker University in the fall.