Racki named to oversee professional development programming
Oct. 18, 2021 | Written by Greg Tammen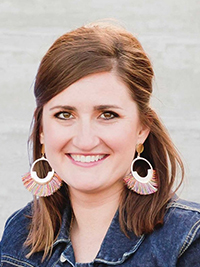 OLATHE — Lauren Racki is the new professional development manager at Kansas State University's Olathe campus, following an external search.

Racki starts in this position on Oct. 20. She has served as the admissions representative/recruiter for the campus since December 2016.

As the professional development manager, Racki will develop and oversee noncredit programs that address workforce talent gaps in Greater Kansas City. She'll do this by linking K-State and regional subject matter experts with programming in animal health regulatory affairs, leadership skills, food systems, digital skills and other strategic areas that align with workforce needs.

She also will plan all aspects of individual workshops, including messaging, materials, registration, evaluations and budgeting.

"We are so excited to have Lauren move into the professional development manager position," said Debbie Kirchhoff, executive director of strategic initiatives at K-State Olathe. "Her skills and expertise will help grow programs and offer participants an excellent learning experience."

Prior to joining K-State Olathe, she served as the program and events director at the Northeast Johnson County Chamber of Commerce. In that role, she planned and oversaw multiple annual events. She also spearheaded a redesign of the Leadership Northeast program. The new program saw a significant increase in enrollment and participant satisfaction.

She also served as the adult ministries and young adult lead for Hillcrest Covenant Church, wherein she designed programs around community service and team development.

Racki will graduate in December with her master's in adult learning and leadership. The degree, which she earned through the university's employee tuition assistance benefit, equips graduates with the skills and education necessary to better engage adults in the workplace and class and in the classroom.

In addition to her upcoming master's degree, Racki has a bachelor's degree in interior design with a minor in leadership studies from K-State.