Gould named communications and marketing assistant at Olathe campus
Tuesday, Nov. 10, 2020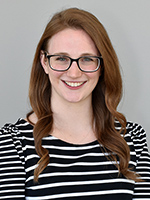 OLATHE — Megan Gould joins Kansas State University's Olathe campus as a communications and marketing assistant.

In this role, Gould provides marketing communications support for K-State Olathe initiatives, including professional development programs, K-12 outreach and other strategic activities. She assists in event promotion, and social media and website management.

In combination with her role at K-State Olathe, Gould is the coordinator for the American Association of Industry Veterinarians, or AAIV, where she works with the board of directors to support recruitment, marketing and member engagement initiatives.

"We are thrilled to have Megan join the team at K-State Olathe," said Christine Splichal, director of communications and marketing. "In this role, she will help us grow key campus initiatives and also continue our strong partnership with and support for AAIV."

Prior to joining K-State, Gould was the marketing coordinator for a local Kansas City nonprofit serving homeless individuals. There, she coordinated social media, media relations, donor communications and aided in fundraising efforts. Previously, she was involved in internships throughout college focusing on event planning, campaign marketing and development.

Gould earned a bachelor's degree in nonprofit leadership studies with a concentration in fundraising and a bachelor's degree in psychology and a minor in business administration from Rockhurst University.