Virtual summer camp proves to be a 'dairy delight' for middle schoolers
Aug. 3, 2020

OLATHE — One-hundred Johnson County middle school students recently participated in a virtual summer camp designed to teach them advanced scientific concepts and introduce STEM-related careers.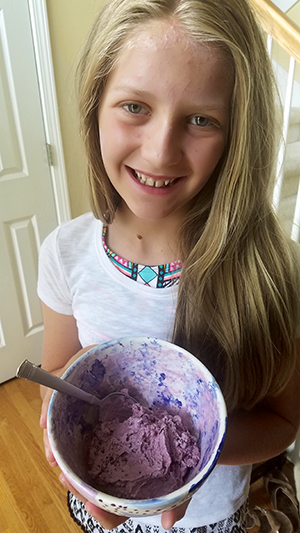 "Fun with Food Science: Dairy Discovery Days" was conducted July 13-17 via Zoom by faculty and staff at Kansas State University's Olathe campus.

Throughout the week, a chef taught participants about the science behind milk-based foods and provided hands-on instruction to make those items. Hosts and guests from the dairy industry helped students explore academic programming and real-life applications in science, technology, engineering and math.

Each day, partipants — many of whom included siblings and parents with their children — tuned in to the 90 minute camp to learn about a different dairy-related topic and participate in an activity.
Camp topics and activities included:
learning about basic food safety;
understanding food chemistry concepts such as processing and coagulation;
exploring nutrition concepts, reading nutrition labels;
making cheese, ice cream, yogurt, sour cream and buttermilk; and
virtually visiting a dairy farm to explore job roles.
The camp capped off with campers showing their homemade cheese or ice cream and sharing how they flavored it to make it uniquely reflect themselves.

"There was a ton of interest from both middle school students and teachers," said Laura Loyacono, director of community and education engagement and a camp leader. "Students wanted to learn how to make cheese, ice cream and other dairy products at home, and educators wanted to learn about content and activities to use in the classroom."
Participant demand was so high that enrollment was raised from 50 to 100. Because of this, the Olathe campus will offer a STEM-oriented summer camp in 2021 and is exploring spin-off "micro camps" for K-12 teachers.

K-State Olathe's K-12 programming is supported by funds from the Johnson County Education Research Triangle.