Cargill senior scientist joins Olathe team as animal health professor
Tuesday, Aug. 18, 2020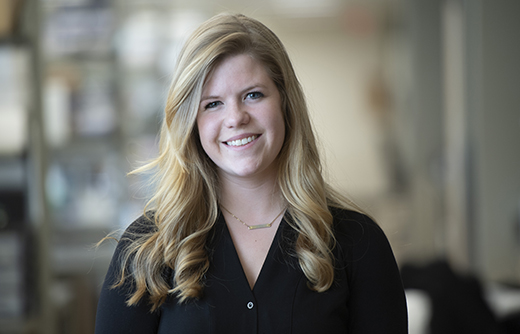 Haley Larson, Ph.D., has been named teaching assistant professor of animal health at K-State's Olathe campus.
OLATHE — Haley Larson, Ph.D., joins Kansas State University's Olathe campus as a teaching assistant professor of animal health.

Larson will primarily teach courses in the M.S. in Veterinary Biomedical Science program. She also will help with professional development offerings around animal health that support the region's workforce needs.

"We're very excited to welcome Dr. Larson to campus to help our young campus and the region continue to grow and expand," said Jackie Spears, interim dean and CEO of K-State Olathe. "Her industry experience and insight will be beneficial to our students, many of whom plan to use their animal health education from K-State Olathe to earn a promotion in their company or transition to a new role."

As a teaching assistant professor, Larson will instruct several graduate-level courses and serve as the major professor or as a supervisory committee member to graduate students in the veterinary biomedical science program at the Olathe campus. She also will design academic courses and professional development programming tailored to Greater Kansas City's growing animal health industry.

Larson said her passion for animal agriculture aligns with K-State's history as an agricultural and animal health leader.

"Kansas State is uniquely positioned to impact the animal health industry through its work at the Olathe campus," Larson said. "In my role as assistant professor, it is my goal to provide students with a strong foundational understanding of the animal health field while at the same time preparing them as spokespersons who are able to articulate the perspectives of the industry to an ever-evolving global consumer."

Prior to joining K-State's Olathe team, Larson was a senior scientist for Cargill Animal Nutrition and Health for four years. She specialized in the development of biological modeling capabilities, evaluation of rapid assays for on-farm applications and research support for global innovation portfolios in beef and dairy that would lead to product development and marketing support for the company.

At Cargill, Larson mentored two to four graduate students each year through university partnerships. Students relocated to the Cargill Animal Nutrition Innovation Campus in Elk River, Minnesota, to train with Larson and her lab staff for 3-6 months.

Larson was appointed to lead Cargill's agility leadership project. It aims to redesign how Cargill interacts with university students in the innovation space. The program will incorporate the perspectives from global campuses in Chile, the Netherlands, Norway and the U.S.

She is a member of the American Registry of Professional Animal Scientists, American Dairy Science Association, Plains Nutrition Council and the American Society of Animal Science.

Larson has multiple research articles and abstracts published in peer-reviewed scientific journals, been an invited speaker at several animal health conferences and has won several awards for her research.

Larson earned her doctorate in ruminant nutrition and her bachelor's in animal science with the Summa Cum Laude distinction from the University of Minnesota-Twin Cities.