New graduate certificate fulfills animal health industry's demands for applied skills
Tuesday, May 31, 2019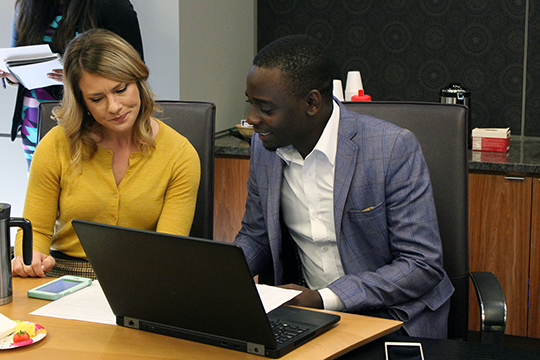 The 20-credit hour animal health management graduate certificate equips professionals in the animal health industry with skills and knowledge that enable them to lead and manage organizations more efficiently.
MANHATTAN — Employers in Greater Kansas City's animal health industry say they need employees with more technical skills in agribusiness, management, policy and regulation in order to keep pace with the increasing complexity of the global animal health industry. In response, Kansas State University is offering a new graduate certificate for animal health professionals that is tailored to enhance these technical skills.

The animal health management graduate certificate is a 20-credit hour program that provides courses and experiences to equip professionals in the animal health industry with knowledge and skills to make better economic decisions for their companies and its practices. Graduates gain management and economic tools specifically for food and companion animals that enable them to lead and manage organizations in the animal health sector more efficiently.

"This online, business-focused graduate certificate will allow professionals in the animal health and companion animal health industry to learn business, economic and management skills they can immediately apply to their companies and practices," said Allen Featherstone, professor, head of the department of agricultural economics and director of the masters of agribusiness program. "With courses taught by faculty and senior experts in the industry, and classmates working in all sectors of animal health, students will benefit from real-life experiences shared in class."

The curriculum addresses the redefinition of animal health, pharmaceutical impact in food supplies, the breadth of species included in animal health, veterinary epidemics, consolidation of companies, increasing regulation, "downstream consumer" influence, workforce diversification and competition for resources in human and animal markets, among other topics.

The animal health management certificate is part of the master of agribusiness program, or MAB. The award-winning online program provides business and management skills to professionals in the animal health, food and agriculture sectors. Courses cover finance, economics, risk management, management, marketing, strategy, policy and others topics, with each course geared toward application to the animal health and agribusiness industries for maximum applicability.

The certificate can be earned as a stand-alone credential or be used as a direct path to the full MAB degree.

Classes for the certificate are offered online and face-to-face at the Manhattan and Olathe campuses.

More about the certificate, including enrollment options, is at mab.k-state.edu/ahcertificate.html.

Additionally, those interested in the animal health management graduate certificate or the MAB degree can tune into a live webinar over their lunch break to learn more about each program and ask questions. The webinar is from noon to 12:30 p.m. on May 22 and can be viewed on mobile devices and computers. Attendees receive an application fee waiver to Kansas State University's Graduate School, which is valued at $65. Registration for the webinar is currently open.