Olathe campus receives highest healthy workplace designation by KC Chamber, wins university Movement Challenge
Tuesday, Oct. 16, 2018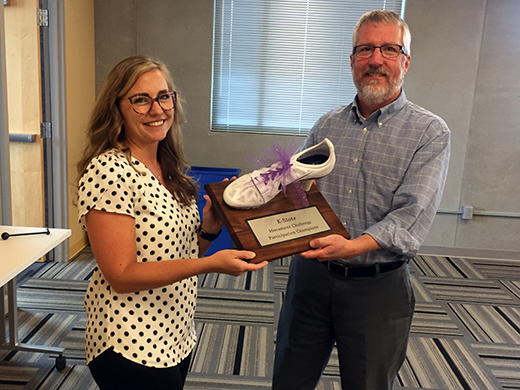 Amanda McDiffett, director of benefits for Human Capital Services, presentes Bryan Severns, director of food programs and services and Olathe team captain for the Purple is Progress Movement Challenge, with the Participation Champions trophy for the challenge.
OLATHE — Kansas State University's Olathe campus has been named one of the healthiest workplaces in Greater Kansas City for the third consecutive year.

In late September, the campus was honored as a Platinum Level Healthy KC Certified Organization by the Greater Kansas City Chamber of Commerce. Platinum is the chamber's highest certification level — and the first year for K-State Olathe to be ranked as such. The designation recognizes efforts to create a workplace that promotes health and wellness among its coworkers through exercise, healthy eating, work-life integration, tobacco cessation and design-build environment.

"At K-State Olathe, we champion the balanced pursuit of academic excellence, overarching critical thinking and quality of workplace and life," said Dean Vakas, chief operating officer at K-State Olathe. "We work hard to create a collective healthy environment that is easy to embrace."

The application effort to the chamber was led by Roberta Robinson, manager of human services. She worked with Andrena Keesee, director of site/facilities operations and maintenance, Bryan Severns, director of food programs and services, and Nate Scherman, IT manager, on the health and employee participation aspects of the form.

Notable employee actions on the campus' application included:

• Participation in the State of Kansas' optional health rewards programs and its wellness challenges, lifestyle coaching and online seminars;

• Participation in the universitywide Purple is Progress Movement Challenge, which tallies employees' minutes of daily activity for five weeks;

• Hosting lunch and learns about how to stay physically active at work;

• Posting health tips and information on bulletin boards and digital signage around the building;

• Bringing healthy food options to potluck events and serving healthy options at employee lunches and events;

• Hosting community yoga and strength training classes twice a week during the lunch hour;

• Using lunch breaks to walk, run or cycle.

• Organizing physical activities, such as cycling, bowling and golfing, for employees to use as community building events; and more.

In 2016 and 2017, K-State Olathe was named a gold level workplace.

Healthy KC is an initiative launched by the Greater Kansas City Chamber of Commerce, Blue Cross and Blue Shield of Kansas City and regional health and wellness leaders. The initiative was created in response to national health rankings showing a decline in the overall health of citizens in Greater Kansas City. Recognizing healthy activities at workplaces is one of the five areas of focus for Healthy KC.

K-State Olathe also led the way in the university's recent Purple is Progress Movement Challenge.

At the end of the five week challenge, the campus placed first in the overall departmental participation category and third in departmental activity category for the most minutes of activity.

Mary Partridge, events coordinator; Tammy Racey, kitchen assistant; Sarah Thomas, events assistant; Scherman; Severns, team captain; and Vakas were frequently in the top 10 for individual activity during the five week challenge.