Hospitality management bachelor's degree completion program now at K-State Olathe
Tuesday, June 12, 2018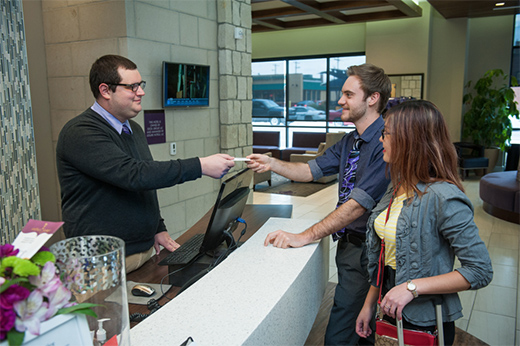 Hospitality management is the first arranged bachelor's degree available at K-State Olathe. Students can specialize
in lodging management, restaurant management, club management and meeting and event management.
OLATHE — This fall, Kansas State University Olathe's campus is welcoming its first arranged bachelor's degree program along with its first undergraduate students.
In partnership with K-State's College of Human Ecology, hospitality management is the newest academic program to be offered at K-State Olathe. The bachelor's degree completion program helps working adults from a range of hospitality professions become leaders and managers in lodging, restaurants, clubs, conference centers, event spaces, sales and human resources.

The curriculum is tailored to Greater Kansas City's growing hospitality field, which employs 32,000 professionals. The lodging industry, in particular, is projected to grow 5-6 percent by 2020 as the region adds more luxury, boutique, corporate, niche and economy brand hotels.

"Hospitality is a field undergoing tremendous growth and the demand for jobs and qualified, experienced professionals to fill those jobs is at an all-time high," said Brett Horton, professor of practice in hospitality management who oversees the program at K-State Olathe. "Graduates need the right educational training and experiences in order to meet the needs of this ever-evolving industry and help lead it. K-State Olathe is proud to be part of the solution."

Students can specialize in lodging management, restaurant management, club management and meeting and event management. Classes are offered in-person and online.

The program is accredited by the Accreditation Commission for Programs in Hospitality Administration, or ACPHA.

In addition to the degree completion program, Kansas State University and Johnson County Community College are developing a 2+2 agreement for undergraduate students in the region. The proposed 2+2 program would make it possible for students to earn a bachelor's degree in hospitality management by completing two years of coursework at Johnson County Community College and then two years at Kansas State University's Olathe campus.

Learn more about the hospitality management bachelor's degree completion program at olathe.k-state.edu/hospitality.