Industry professional joins K-State Olathe as professor of practice in animal health
Tuesday, Jan. 23, 2018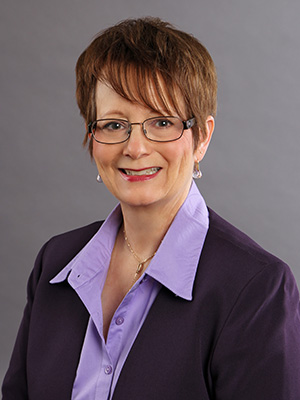 OLATHE — Ellen Lowery, D.V.M., Ph.D., MBA, is joining Kansas State University's Olathe campus as a professor of practice in animal health. Her role is divided by teaching and administrative responsibilities.

"We're very excited to welcome Dr. Lowery into the K-State Olathe family," said Janice Barrow, associate dean for academic affairs and executive education. "Dr. Lowery brings more than 20 years of industry experience, which includes research to executive leadership, at one of the nation's foremost pet food companies. She will help our young campus and the region continue to grow and expand."

As a professor of practice, Lowery will instruct several graduate-level classes in the veterinary biomedical science program. She also will help design new academic courses tailored to Greater Kansas City's growing animal health industry and to support the region's workforce needs.

Lowery will help recruit students to the veterinary biomedical science program at K-State Olathe and serve as major professor to graduate students or as a committee member on graduate student supervisory committees.

In addition to working with graduate students, Lowery will provide support for industry-focused special courses, workshops and professional development programs on animal health. These courses and programs are offered to working professionals at animal health companies as a means of elevating workforce development.

"I am delighted to be joining the faculty at K-State Olathe," Lowery said. "My experiences with Hill's Pet Nutrition will be invaluable in engaging with animal health companies and contributing to the growth and expansion of the campus. I understand the needs and balances of adult learners. As a working professional, I completed my Masters of Business Administration and I am dedicated to paying that experience forward through supervising, teaching and mentoring working professionals."

Prior to joining K-State Olathe, Lowery was director of the U.S. Professional and Veterinary Affairs department at Hill's Pet Nutrition Inc., where she led the development and execution of programs to support and strengthen Hill's engagement with the profession.

Lowery joined Hill's in 1994 as a research scientist, where she led a companion animal oral care research program with teams at Kansas State University's College of Veterinary Medicine, the University of Kansas Animal Care Unit and Hill's Pet Nutrition Center.

Lowery progressed through several roles in the commercial organization, including technical and marketing communications manager; veterinary consultation services manager; senior manager in veterinary customer development; and associate director U.S. professional and veterinary affairs.

An advocate for personal leadership and professional development, Lowery was a member of the Hill's Veterinary Leadership Task Force, co-led the establishment of the Hill's Women Empowered Network and served as a facilitator for the Fundamentals of Colgate Leadership Course.

Lowery served as president of the American Veterinary Dental Society and has served on numerous boards, including the Kansas Veterinary Medical Association, the Partners of Healthy Pets, the Pet Nutrition Alliance, the Veterinary Innovation Council and the Mark Morris Institute. She currently is the president of the American Association of Industry Veterinarians and on the board of directors for the Lesbian and Gay Veterinary Medical Association. She has published numerous scientific articles, was a reviewer for the Journal of Veterinary Dentistry and served as CE editor for the Journal of the National Association of Veterinary Technicians.

Lowery earned her doctorate in comparative pathology, her doctorate of veterinary medicine and her bachelor's degree in animal science from Kansas State University. She also has a master of business administration in leadership and marketing from the University of Kansas.