Hospitality management professor of practice joins
K-State Olathe
Thursday, Jan. 18, 2018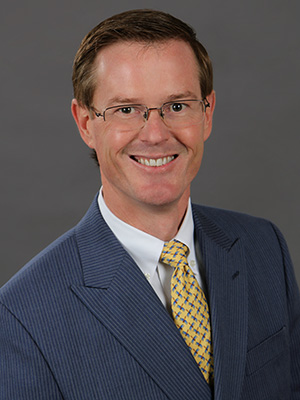 OLATHE — Brett Horton is joining the Kansas State University Olathe campus as a professor of practice in hospitality management.

Horton instructs hospitality management courses to undergraduate students on the Manhattan campus and is working on a 2+2 agreement for undergraduates in Greater Kansas City. The proposed 2+2 program will be a partnership with Kansas State University and Johnson County Community College. Through it, students can earn a bachelor's degree in hospitality management by completing two years of coursework at Johnson County Community College and then two years at Kansas State University's Olathe campus.

In addition to teaching, Horton will help with student recruitment; establish new relationships with the hospitality industry for student internships and opportunities; and serve as a liaison to Kansas State University's hospitality management department for the metro area.

"Dr. Horton is a wonderful addition to the hospitality management department," said Michael Ottenbacher, hospitality management program director and Mary L. Vanier Endowed Professor. "He has more than 25 years of industry and academic experience, making him the perfect ambassador for the 2+2 program that is available to students in Greater Kansas City."

Horton brings 15 years of experience as an instructor in higher education, teaching at James Madison University, Iowa State University and Purdue University. He also has 12 years of industry experience, having worked with five-star hotels and resorts and WinShape Foundation.

Before joining K-State Olathe, Horton was senior director at WinShape Retreat Center in Mount Berry, Georgia. The center, located on the Mountain Campus of Berry College, is 80 rooms, 22 cabins and staffed by 100 employees. The center also is one of the nonprofit foundations of Cathy Family, best known for establishing Chick-fil-A.

"I'm looking forward to engaging industry leaders and local colleges this spring in order to refine the needs of local stakeholders," Horton said. "I believe my experience will help me connect with operators and staff who are interested in finishing a degree or obtaining specific hospitality knowledge."

Horton has 18 studies published in industry journals, authored two book chapters, given 29 presentations — both national and international — and received numerous awards for his papers and leadership.

Horton earned his doctorate in restaurant, hotel, institution and tourism management from Purdue University; his master's degree in finance from the University of Colorado at Colorado Springs; and his bachelor's degree in restaurant, hotel and institution management from Kansas State University.