April 7 open house marks a day of fun, adventure at
K-State Olathe
Monday, Feb. 26, 2018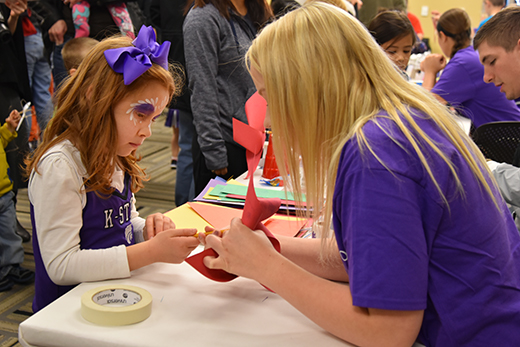 OLATHE — Free entertainment, food, fun and — most importantly — purple pride will be in full force at K-State Olathe's 2018 All University Open House.

Open house is from 9 a.m. to 2 p.m. Saturday, April 7, at the K-State Olathe campus, 22201 W. Innovation Drive, Olathe. The event features hands-on demonstrations, activities, information, food, exhibits and more that are designed for all ages in the Greater Kansas City region.

Open house is free and no registration is required.

In addition to Saturday's community event, the campus is hosting a liqueur tasting and networking event for young professionals from 4-5:30 p.m. Friday, April 6. Attendees will make limoncello and a blueberry liqueur with other young professionals in the Greater Kansas City region.

"As K-Staters know, family is very important to the university and something that makes Kansas State University special," said Ralph Richardson, dean and CEO of K-State Olathe. "Open house is a wonderful opportunity for non-K-Staters to see what it means to be a part of the K-State family. It's also a day that we can welcome all of our alumni in Greater Kansas City home to our campus."

Some of the open house activities include:

• Willie the Wildcat;

• An open house keepsake available to the first 500 attendees;

• Free Cherokee Purple tomato plants, while supplies last;

• Meet, mingle and have coffee with university and campus deans;

• A free pancake breakfast, a light lunch from Pegah's Family Restaurant and Purple Pride ice cream from the Call Hall Dairy Bar at Kansas State University's Manhattan campus served by Cargill Animal Nutrition;

• A series of challenges for K-12 students that combines engineering, science, problem-solving and creativity;

• A photo booth with props;

• A live broadcast by Sports Radio 810 WHB;

• Health information from industry partners Redivus and Maxxam Analytics;

• Sharing your thoughts about how different varieties of locally grown lettuce taste;

• A fundraiser using plants and flowers grown at the K-State Research and Extension Center-Olathe;

• Information, advice and activities from K-State Research and Extension about healthy eating, how to safely store produce, bluebirds and more.

Visit olathe.k-state.edu/openhouse to see a complete list of the activities and booths.

K-State Olathe's open house is in conjunction with similar events at the Manhattan and Polytechnic campuses.