Changing workforce, effective leadership focus of upcoming professional development conference
Friday, July 21, 2017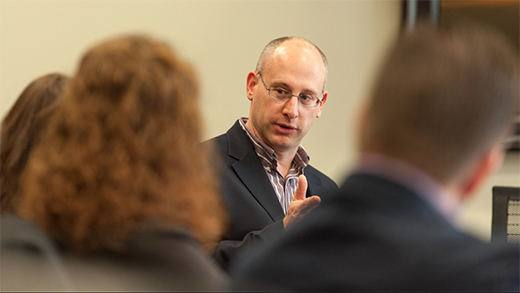 Attendees of the Leading through Change professional development event will learn tools, best practices and new insights on finding success during change.
OLATHE — In October, one of the nation's top leaders in management training is coming to Greater Kansas City to discuss generational diversity in the workplace and effective leadership in a changing employee landscape.

Bruce Tulgan, author, business consultant and founder of RainmakerThinking Inc. — a research, training and consulting firm that specializes in generational issues in the workplace — will share how employers can find new success in a changing workforce during his keynote at the professional development event, Leading through Change.

Leading through Change is Oct. 19-20 at the Kansas State University Olathe campus, 22201 W. Innovation Drive, Olathe. The conference is open to professionals in all fields.

"More and more businesses are dealing with how to effectively address the persistent needs of change management and working well with diverse teams," said Deborah Kohl, coordinator of Kansas State University's Master of Agribusiness program, or MAB, and conference organizer. "This conference is really geared for anyone managing a business or team, particularly those with employees from multiple generations. Employers will learn how to best manage the change that comes with this shifting employee landscape so they can continue to foster new leadership and attract the best talent to their firms."

In addition to Tulgan's keynote, the conference features a series of diverse panelists who will provide attendees with tools, best practices and new insights on finding success during change. The panels are as follows:

Tuesday, Oct. 19
• Keynote session with Bruce Tulgan

• "Enter, Shift, Control: Data Risk and Leadership," invited speaker Ken Harmon of Koch Industries Inc.

• "#Marketing in a Digital Age," Neil Caskey of Osborne and Barr

• "Mergers and Acquisitions: Guiding Your Company through Change," Paul Casady of K-State Olathe

• "Sky is the Limit: Leveraging Unmanned Aerial Systems," Robert Boyd, FFA committee member, and Kurt Carraway of Kansas State Polytechnic's Unmanned Aerial Systems program

Friday, Oct. 20
• "Policy Outlook for Leaders Roundtable," Dana Brooks of Land O'Lakes Inc.

• "Legal Considerations for Leadership," Mark Anstoeter of Shook, Hardy and Bacon LLP

Attendees who register by Sept. 15 for the two-day professional development event will receive a discount. Early registration is $295 per person for both days. After Sept. 15, the two-day registration is $350 per person. Single day registration for Tulgan's keynote on Oct. 19 is available for $245, respectively. The registration fee includes meals and meeting materials.

Register and see a complete schedule for the conference at
mab.k-state.edu/events/kc2017.html.

The Leadership through Change conference is the eighth professional development and alumni reunion event from the MAB program. The conference is a collaboration of the MAB program and K-State Olathe, with the support of the Agricultural Business Council of Kansas City.