Food testing market leader Maxxam opens lab at
K-State Olathe
Wednesday, Aug. 30, 2017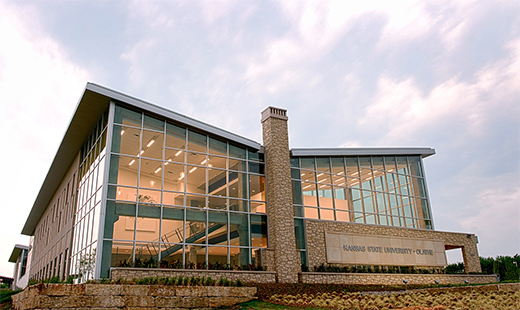 Maxxam Analytics has chosen K-State Olathe as its location for a 3,000-square foot analytical food testing laboratory.

OLATHE — Maxxam Analytics, a North American provider of food, environmental, industrial hygiene and DNA analytical testing services, has opened a 3,000-square foot analytical food testing laboratory at K-State Olathe.

The partnership with K-State Olathe has provided a gateway for Maxxam to establish its first U.S. food testing lab — one that is in the heart of the Animal Health Corridor. Part of K-State Olathe's mission is to help expand job growth and opportunities in the region through education, research and outreach.

Maxxam brings more than 50 years of analytical testing expertise to the Animal Health Corridor. Its food testing lab will contribute to the overall health and safety of animals by ensuring that all animal food and treats manufactured and sold by its national and international partners meet safety and regulatory requirements through its specialized microbiology, chemistry and residue testing.

"K-State Olathe's partnership with Maxxam will have many benefits for Greater Kansas City's workforce and for pets everywhere," said Ralph Richardson, dean and CEO of K-State Olathe. "Not only is Maxxam helping ensure that our pets are consuming safer food, but the company has created new jobs in Olathe and is helping usher in a more skilled workforce for the region by giving K-State Olathe's graduate students the opportunity to learn Good Laboratory Practice operating standards and industry-based lab operations before graduation."

Maxxam is part of the group of companies under Bureau Veritas, an international leader in testing, inspection and certification. Their mission as a science company is to be recognized as experts in analytical services and solutions that are committed to delivering great science through exceptional service while creating a healthy, safe and open environment.

"The Maxxam food laboratory has been selected as the laboratory of choice for leading food companies, for its capability of producing high-quality analytical results, extensive scientific expert knowledge and exceptional customer service," said Tony Fishback, vice president and general manager of food science and safety services at Maxxam Analytics. "We are pleased to extend this level of service to the KC Animal Health Corridor."

Currently, the Maxxam lab at K-State Olathe has 10 employees, the majority of whom are researchers. Maxxam has approximately 2,200 employees in 45 facilities across North America who process more than 2.5 million samples a year.

Maxxam was recruited to Greater Kansas City by the Kansas City Animal Health Corridor, State of Kansas, Kansas Department of Commerce, Olathe Chamber of Commerce, K-State Olathe and Kansas City Power and Light Company.

In addition to being the U.S. base for the Maxxam food division, K-State Olathe is helping several companies and organizations expand One Health initiatives in Greater Kansas City.

Redivus Health
Redivus Health is developing a mobile platform and app that helps physicians efficiently and accurately make medical diagnoses and clinical decisions. Currently, physicians, nurses and EMS provides can use the Redivus platform to enhance provider decisions in diagnosing stroke, cardiac arrest and sepsis. These conditions can often present signs that make a diagnosis difficult, yet require a timely response to prevent negative long-term health effects or death. The platform has been field-tested by multiple teams of doctors, nurses and first responders, and will soon include critical care applications for heart attacks, respiratory failure and trauma.

AAIV
In July, K-State Olathe became the national headquarters for the American Association of Industry Veterinarians, or AAIV — an organization comprised of veterinarians working for animal health companies and related industries. K-State Olathe is helping AAIV grow its membership, have logistical support for events, and expand its communication efforts with the public and future members. AAIV is supporting K-State Olathe's graduate programs through research, student mentorship with an industry leader, and job shadowing and internship opportunities.

Ceva Biomune
In 2016, Ceva Biomune, the Lenexa-based animal health vaccine manufacturer of Ceva Animal Health, opened a satellite laboratory at K-State Olathe. The satellite lab is being used to conduct part of the company's non-regulated production and environmental control testing while Ceva expands its facility and research labs without compromising its workload.

SmartVet
SmartVet is the first business to partner with K-State Olathe, opening its partner operations at the campus in 2011. SmartVet is a division of an Australian company and produces the VetGun. The technology is similar to that used in paintball guns, but rather than firing paint balls, it is used to apply parasite control treatment to cattle. The technology greatly decreases the time it normally takes ranchers to apply parasite control measures to a herd. The application process is harmless to cattle.

K-State Olathe also is focused on helping promote entrepreneurship beyond One Health. The campus recently established a partnership with Digital Sandbox KC and the City of Olathe in an effort to help entrepreneurship flourish in Greater Kansas City. Olathe entrepreneurs who receive funding from Digital Sandbox have access to K-State Olathe resources for collaboration, including Internet access and meeting spaces.