High school students complete research internship at K-State Olathe
Tuesday, May 17, 2016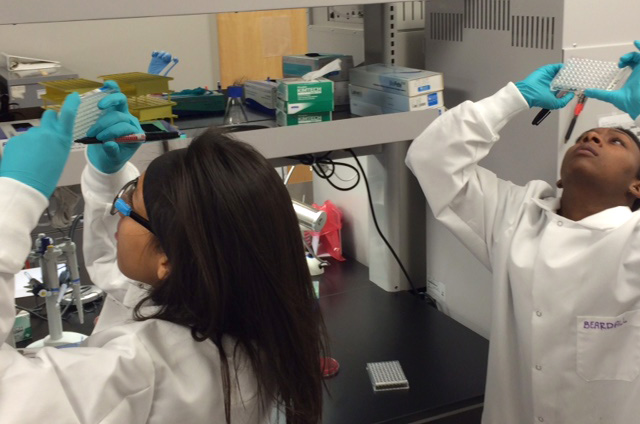 Students conduct surveillance tests in K-State Olathe's labs as part of a high school research internship. | Photos courtesy of Zulma Perez-Estrella


OLATHE — Seven high school students at J.C. Harmon High School and Washington High School in Kansas City, Kansas, recently traded their textbooks and backpacks for microscopes and lab coats at Kansas State University Olathe.
For three hours every Wednesday in April, seven high school juniors and seniors conducted research in laboratories at K-State Olathe. Students worked on a four-week long research project that focused on either animal health or increasing the shelf life of food.

Students assigned to the microbiology project focused on the surveillance of antibiotic resistance in bovine respiratory diseases. The students worked along K-State Olathe researchers, learning how to use the lab's professional equipment and how to do various diagnostic techniques, including streaking bacteria, Gram staining and antibiotic assays.

Students assigned to the postharvest physiology lab looked at how to extend the shelf life of fresh spinach from local producers. The students helped conduct a series of studies about shelf life, respiration, texture and color analysis of the plant.

"It was very important to find a way that our students could integrate what we learned in our lab classes into real world experiences," said Zulma Perez-Estrella, a biotechnology teacher at J.C. Harmon High School. "K-State Olathe provided a chance for these young scientists to see experts use the science in their daily jobs. The opportunity to meet and work alongside researchers has been an experience that has been motivational and memorable."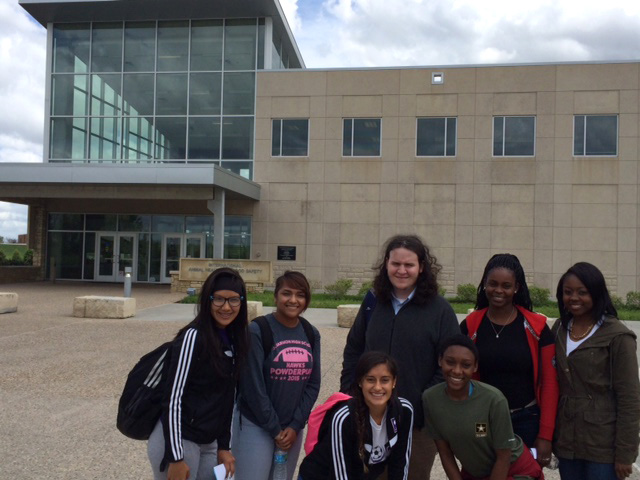 The project originated after Perez-Estrella attended a tour of K-State Olathe's labs that was given to high school students in the Greater Kansas City area. Lab tours are part of K-State Olathe's effort to get high school students interested in pursuing a career in the science, technology, engineering and mathematics — or STEM — fields. The tours are done in partnership with Prep-KC, an organization that works with low-income students in Kansas City to increase their college and career readiness, and that also provided bus transportation for the seven students participating in April.

Following the tour, Perez-Estrella contacted Andrew Waters, research and technical coordinator, about having some of her students shadow researchers in the lab.

Feedback from the students and researchers has been overwhelmingly positive, with all of the students saying they would do the program again and one student even inviting the researchers to give a demonstration at their high school labs, Waters said.

"Having never done a program like this before, we didn't quite know what to expect going into it," Waters said. "I think what ultimately made it meaningful to the students is that we were able to give them a unique, hands-on research experience that most high school students never have."