Industry leaders discuss Kansas City workforce needs at degree roundtable
Tuesday, July 26, 2016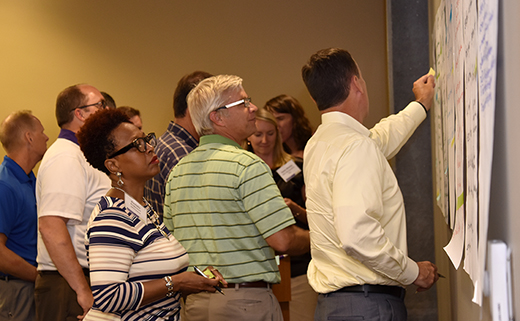 During an exercise, industry leaders evaluate key skills and knowledge they feel will be beneficial to their business, highlighting their top choices with adhesive notes.
OLATHE — At a recent Kansas State University Olathe roundtable, 28 industry leaders from Kansas City's bioscience, animal health and food production sectors discussed the skills and training needs of Greater Kansas City's workforce to keep the region competitive and continue to grow.

K-State Olathe's Professional Science Master in Applied Science and Technology degree served as a backdrop for the July 12 roundtable. The roundtable introduced the degree program to the participants, who represent corporate leadership and human resources, and its mission to produce more highly skilled workers for the region. The degree is tailored to Kansas City industries in the science, technology, engineering and mathematics — or STEM — fields. It is designed for students to pursue advanced, multidisciplinary training in the sciences while simultaneously gaining hands-on experience and developing professional skills needed for career advancement and leadership roles in a company.

Following a short presentation about the degree, participants shared the skills and knowledge needed for employees working in Greater Kansas City's bioscience, animal health and food industries that will help expand the sectors and keep the region globally competitive. Among the top requested skills were business acumen, teamwork, leadership, project management, analytical skills and communication skills.

"The Greater Kansas City area continues to experience significant growth in the life science sectors," said Wayne Carter, president and CEO of the Kansas City Area Life Sciences Institute. "In the past three years, we have seen a 20 percent increase in employment in the life science sectors. The reality is we have more jobs than qualified people to fill them.

"The Professional Science Master's program will provide additional graduate-level training for professionals seeking to further develop or advance their career," he continued. "Our goal is to develop an ecosystem in the region that supports our current companies and attracts outside companies because of the rich assets that exist here. The PSM degree will help us create a robust life science ecosystem."

Kansas City's animal health industry is one such ecosystem. In 2015, the global animal health industry grew by an estimated 5.1 percent. Several of the top 15 animal health companies that have their U.S. headquarters in the Kansas City Animal Health Corridor reported double digit growth in 2015, said Kimberly Young, president of the Kansas City Animal Health Corridor and a roundtable attendee.

Spending on pets is estimated to exceed $60 billion in 2016, which includes
pet-related food, technology, vaccines and luxury products. While the growth is good for the corridor and the regional economy, it also emphasizes the importance of workforce development, Young said.

"Companies need an ample supply of employees with the right skills," Young said. "The most important asset that a company has is their human capital. A
skills-based, interdisciplinary approach is critical as it ensures that individuals not only have the STEM skills necessary, but it also ensures that they have the project management skills, communication skills, the ability to work in teams, business acumen and critical thinking skills companies require of their workforce today and in the future."

In addition to the traditional classroom education, participants were briefed about the degree's capstone experience component, in which students use the knowledge and skills learned throughout the program to complete a hands-on project that solves a real-world problem. During the capstone, students have supervision from a faculty mentor who is an expert in the student's field. They also have the guidance of a supervisory committee and the option of being paired with a co-mentor from business, industry or government.

"Leaders need to understand not only the technical facet of their field, but also have business skills and an understanding of business from a broad perspective," said Laura McDonald, human resources consultant at DuPont. "I think mentorships are fantastic for this, especially when bringing in a co-mentor from another business or industry, because it introduces a new perspective and creates an opportunity to understand different business cultures outside of your own. I think this is very valuable for someone who does not have a lot of experience and is interested in a leadership role."

K-State Olathe is hosting a larger, public rollout of the Professional Science Master in Applied Science and Technology degree from 5-7 p.m. on Tuesday, Sept. 13, at the K-State Olathe campus. The event will feature a panel discussion on the growing demand for STEM professionals in Kansas City as well as information about scholarships, requirements and customized coursework at
K-State Olathe. Register at https://koic.formstack.com/forms/psm_launch_reg.