Happy birthday to us: K-State Olathe reaches five year mark in helping Greater Kansas City area
Tuesday, April 26, 2016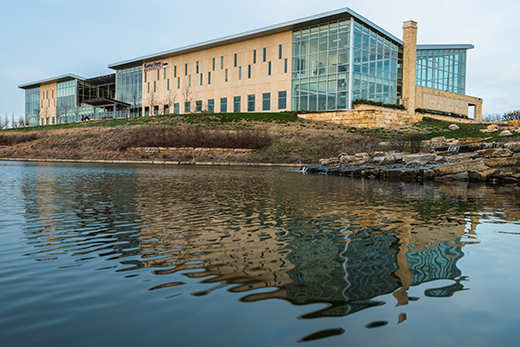 K-State Olathe turns five on April 26. The campus opened to the Greater Kansas City area on April 26, 2011. | Download this photo.

OLATHE — The Kansas State University Olathe campus is celebrating an important milestone: the big five.

April 26 marks the fifth year that K-State Olathe has been in operation. The campus opened its doors to the Greater Kansas City area on April 26, 2011, as the first higher education facility supported by a local tax.

K-State Olathe opened under the direction of Dr. Dan Richardson, a Kansas State University veterinary medicine alumnus who brought 15 years of experience as a faculty member in higher education and 20 years of experience in the animal health industry. Richardson, who served as dean and CEO of K-State Olathe until June 2013, was instrumental in working with the Kansas Bioscience Park and the Johnson County Education Research Triangle on the one-eighth cent sales tax proposal to fund building K-State Olathe, which taxpayers approved in 2008. The ongoing tax support has made it equivalent to one of the nation's largest endowments ever to a higher education public institution initiative.

"Establishing the K-State Olathe campus was an unprecedented, monumental, undertaking made successful by the tremendous foresight and collaboration of academic, industry, community and governmental leaders past and present," said Dr. Dan Richardson. "It was a career highpoint to take part in the entire process of funding, building, and starting academic and research programs to develop the campus."

K-State Olathe specializes in food safety and food security, animal health and adult education. The campus also collaborates with K-12 schools in the Greater Kansas City area on programs focused on science, technology, engineering and mathematics, or STEM.

Professionals in the metro area come to K-State Olathe to collaborate with industry, earn a degree or graduate certificate, advance their careers and become a key asset in their organization. Public and private industry partners also use the campus' laboratories and test kitchens for research and development, product scale up or transitioning to the Kansas City market.

In its five years of operation, K-State Olathe has expanded its focus to include industrial and manufacturing systems engineering with the introduction of a master's degree in the field. It also is moving forward with development of an industrial and manufacturing systems engineering entrepreneurship course.

Time also saw that leadership of K-State Olathe runs in the family as Dr. Ralph Richardson, dean of K-State's College of Veterinary Medicine for nearly 20 years — and Dan Richardson's older brother — was appointed as interim dean and CEO of K-State Olathe in August 2015.

"This position has been one of the most rewarding and exciting that I could ever imagine," said Dr. Ralph Richardson. "The opportunities for collaboration and bridging between Greater Kansas City and all of the K-State programs in Olathe, Manhattan, Polytechnic in Salina and our Global Campus have been amazing. I was aware of some of the things that were going on because of my brother, Dan, but I had no idea how rich the opportunities were until I moved here.

"K-State's strengths match amazingly well with Kansas City's strengths, such as the internationally recognized Animal Health Corridor and the great concentration of engineering and architectural firms," he continued. "Collaboration between human and animal medicine provides an opportunity to advance the concept of One Health as well as comparative and translational medicine. I'm thankful every day for the foundation that Dan and the rest of the K-State team built."
According to Dan Richardson, the appointment of his brother is positioning K-State Olathe for a bright future.

"I am very proud, and not surprised, to see Ralph's leadership having such a profound positive impact on igniting and growing the true potential of K-State Olathe," said Dan Richardson.
Other highlights since April 26, 2011, include:
Academics
The Olathe campus has quickly stepped up to meeting the needs of employers in the Greater Kansas City area. The campus offers 11 graduate degrees and four graduate certificates, which range from adult education to industrial and manufacturing systems engineering to veterinary biomedical science. Enrollment in these programs rose 37 percent in the 2015-2016 academic year.
On Tuesday, April 26, the campus introduced a Professional Science Master in Applied Science and Technology degree. The unique degree is designed for students to pursue advanced training in the sciences while developing leadership and managerial skills highly valued by employers. The degree program is the first of its kind at Kansas State University.

Facilities
K-State Olathe is committed to being a good environmental steward to Kansas City. In 2012, the Olathe campus received LEED Silver Certification. The designation is a framework for identifying, using and measuring green building and neighborhood design, construction, operations and maintenance.
In 2016, the campus saw its carbon footprint shrink following a retro-commissioning of its heating, ventilation and air conditioning, or HVAC, system in February 2015. The project reduced K-State Olathe's 2015 annual utility costs by more than 35 percent, its annual electricity consumption by 10 percent and its gas consumption by 48 percent.

K-12
Since 2011, K-State Olathe has hosted more than 16,600 students in grades kindergarten through 12 at events and programs focused on STEM professions. In the summer, the campus is offering a free, online college course for high school juniors and seniors interested in the biosciences. The course focuses on One Health, a multidisciplinary health approach in which human health, animal health and the environment are linked and affect each other.

Research/Corporate engagement
Several biomedical and animal health companies have leased laboratory and office space at the campus, including Merck Animal Health, Ceva Biomune, SORA Medical Solutions LLC and SmartVet. Similarly, Hoganville Family Farms, a family-owned and -operated business that produces naturally fermented sauerkraut, used the Food Innovation Accelerator at K-State Olathe to scale up their production.
K-State Olathe also has taken the lead on fostering several emerging industries in the Greater Kansas City area. The campus recently hosted the Petfood Innovation Workshop, which used the campus' test kitchens to develop novel protein products in pet foods and treats. The Urban Food Systems Symposium on June 22-25 is the first international conference to focus on urban agricultural production, local food systems distribution, urban farmer education, urban agriculture policy, planning and development, food access and justice and food sovereignty. Kansas City is one of the nation's emerging urban food centers.