Olathe Chamber recognizes K-State Olathe as Corporate Citizen of the Year
Wednesday, January 23, 2013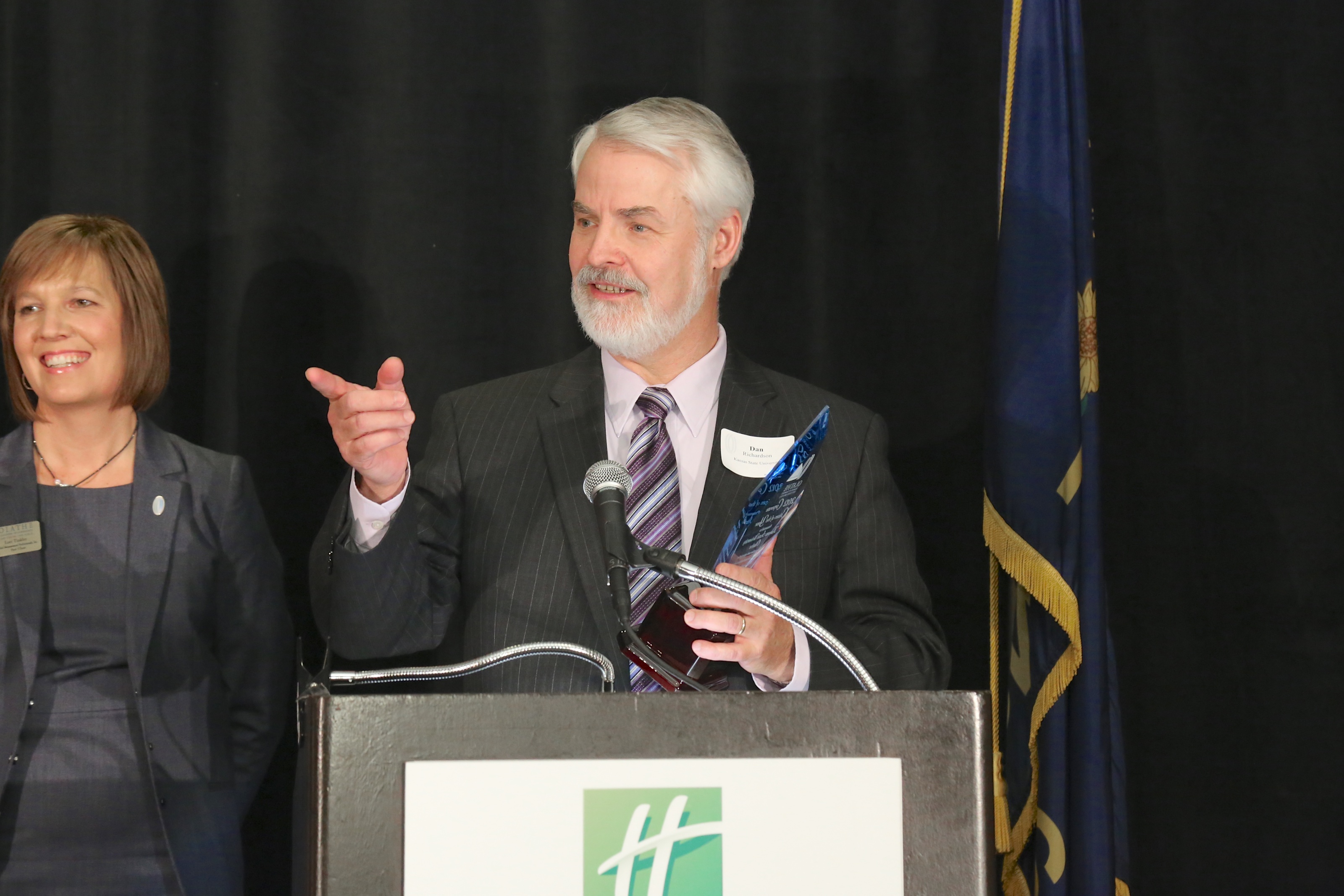 The Olathe Chamber of Commerce has named Kansas State University Olathe as the 2012 Corporate Citizen of the Year. The award, presented at the chamber's 92nd annual meeting Jan. 18 at the Holiday Inn-Olathe, recognizes dedicated service to the Olathe Chamber of Commerce and the Olathe community.
The chamber cited K-State Olathe's work with Olathe Northwest High School on a pilot program, the 21st Century Animal Health Program, to develop curriculum for biosciences students and allow them to engage in summer research activities and interact with Kansas State University scientists during the school year. It also recognized K-State Olathe's strong economic impact, with more than 22,000 people utilizing the campus last year for events, meetings and conferences. In the same year, K-State Olathe's K-12 outreach impacted more than 7,000 students and educators in the Greater Kansas City area and the campus unveiled five graduate degree programs.
Past winners of the Corporate Citizen of the Year award include nationally recognized companies such as Garmin International, Farmers Insurance, Pepsi and Tyson Foods.
The meeting also featured a panel discussion on public higher education, one of the key components to economic development in Olathe. Featured speakers were Kansas State University's April Mason, provost and senior vice president, and Bernadette Gray-Little, chancellor at the University of Kansas. The panel was moderated by Marlin Berry, superintendent of the Olathe public schools and Kansas Superintendent of the Year.
"Recognition like this comes not only from the support of our community, but because of the people within our walls who work hard every day to make K-State's mark on this region, and our wide-reaching K-State family," said Dan Richardson, K-State Olathe CEO, in accepting the award.
With five-star accreditation by the U.S. Chamber of Commerce, the Olathe Chamber is in the top 1 percent of chambers nationwide. It is the second largest chamber in Kansas with more than 1,300 members.
"Our K-State Olathe campus is a novel opportunity we have all been given," Mason said. "It takes the commitment and continued exemplary work of our Olathe staff to launch a new campus, and to have that task recognized by the community is most appreciated."
The award comes as Kansas State University prepares to celebrate its sesquicentennial. Opening in 1863, Kansas State was the nation's first functioning land-grant college under the Morrill Act. K-State Olathe continues to build on this history in the Greater Kansas City area, with land for the campus donated by the city of Olathe. For more information about the university's 150th celebration, click here.