Student designer of K-State Olathe logo going to work for Fossil
July 19, 2010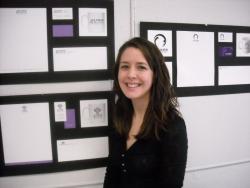 OLATHE, Kan. - The idea of Matrix Studio and Business Practices, also known as ART 577, is two-fold. First of all, it gives students experience creating graphic designs based on the needs of a professional organization instead of the ordinary classroom criteria. Secondly, it gives the organizations several different options for branding them or their products.
First held in the spring of 2009, ART 577 offered its students a chance to design for not just any organization, but for the university itself. Students had the opportunity to brand the new K-State Olathe Innovation Campus.
Aubrey Klein, Class of 2009, created the winning design. Excited and a little surprised, Klein felt the selection of her logo was special in particular because her parents live in Olathe.
Administrators wanted to reflect the current brand of K-State in the K-State Olathe logo, so they wanted to keep some purple and some representation of the Powercat.
"There are three swirling lines that come up through the Powercat, so I wanted to just replicate that and still keep the same color, same sort of flow to it, and just make it a little bit more circular, so it's still identifiable as K-State, it's just a little more subtle," Klein said.
Klein aimed to make the logo general enough to encompass everything going on at K-State Olathe.
"I wanted to demonstrate progress, still keep it tied in with the Powercat logo, still represent K-State," Klein said. "The whole shape itself is meant to just show progress and a cycle, and overall growth. So after all my sketches, it looked like a positive representation and enough that it didn't get too specific on any particular area that the Innovation Campus focuses on."
Since her graduation, she has had a couple different jobs. She worked in Kansas City for a little while at a graphics firm and is currently still working in Wichita for a marketing firm.
However, she is relocating to Dallas in a couple weeks for work for Fossil.
"I'm actually going to be working for their web department, so I will be doing everything that goes up on their Web site, and they update it so regularly that the look is always going to change," Klein said. "I've done a lot of web projects since graduating, so that's where my career is going. They do a lot of illustration work and product design, so I'll be involved with a lot of that stuff too."
Klein created her own Web site in the fall of 2008 to start applying for jobs. It's been through several different redesigns since then, but Klein said it's really helpful with finding jobs because prospective employers can simply look at her work there instead of having to download portfolios.
- By Ashley Dunkak -