Pull planning speeds construction on K-State Olathe
July 13, 2010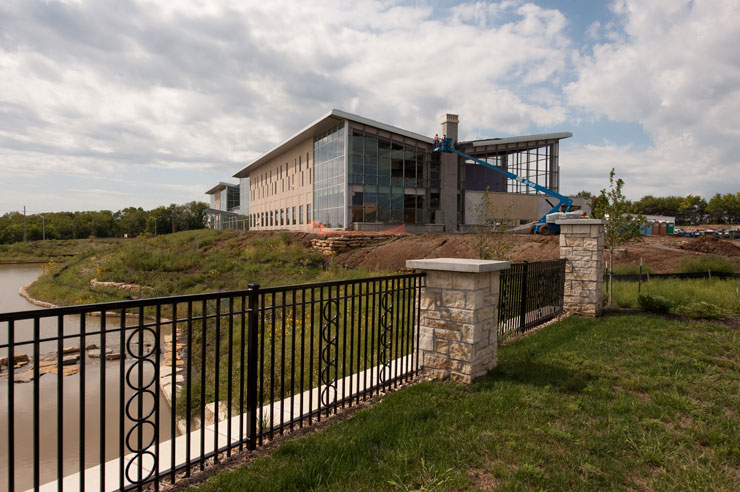 OLATHE, Kan. - When you walk into the education trailer that sits on the construction site of the K-State Olathe campus, the first place your eyes will go is that board on the back wall with all the colorful sticky notes.
As you read the scribbled permanent marker on each piece of paper, you recognize words and see that the chart is some kind of schedule, but you still are not quite sure what to make of it.
The chart, as it turns out, is the result of pull planning, a construction method that maximizes efficiency by getting all the different contractors in on the planning so they can schedule different activities to make sure everyone is out of each other's way.
"What it does is we take a longer activity and then we break it down into sections, and the trades have the input," said Steve Heyne, a project manager for The Weitz Company. "So each color you see up there is a different trade. They write on there how long they think a certain task is going to take. They're promising their work, and it holds them accountable. That's the key."
While making the schedule, site manager J.P. Elliot and others talk to individual subcontractors and ask them questions such as what exactly they need to do, how many days it will take to accomplish and whether other tasks need to be completed first so the workers will not interfere with one another.
Elliot said the subcontractors have really bought into this method of scheduling because they have so much input. They know they can go by that timeline because they basically created it.
"What we've shown with this so far, just on the sections we've done, is you actually can shorten up some of these activities," Elliot said.
Nate Purdy, also a project manager for Weitz, gave an example of construction activities for which pull planning can be helpful. If the team has a milestone of putting the roof on the first story, the big-picture question is, "What do we have to do to get there?"
The process begins by asking the roofer what he needs to have done to be able to set foot on site and start roofing the building. When he says he needs the structure up and the plumbing pipes up, the managers go to the structural contractor and the plumbing contractor and ask what they will need to do their work. This is the concept of pulling backwards in order to schedule as efficiently as possible.
- By Ashley Dunkak -