K-State Olathe works with Meadow Lane Elementary
July 1, 2010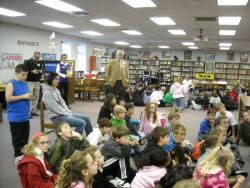 OLATHE, Kan. - When the ink dried on the agreement for a K-State Olathe Innovation Campus, there was every intention to partner with local schools and increase awareness of biosciences.
No one knew, however, that one of the first opportunities to interact with the schools would not be the brainchild of administrators. Rather, it would stem from a concerned kindergarten student at Meadow Lane Elementary. Her name is Ella McKee.
The 92-acre plot of land where K-State Olathe and Kansas Bioscience Authority now have their first buildings in progress looked very different just a couple years ago. Formerly crop and pasture land, the area had scrub trees that had taken over the property.
Ella saw these trees being removed and started a petition among her classmates to stop the developers. Her father, Tim, at first thought someone might have put her up to it, but it was really her idea.
The confusion over the scrub trees presented an opportunity to increase environmental awareness for not only Ella but her entire school.
On October 9, 2009, several different groups converged on Meadow Lane to give presentations educating students about indigenous plants, forestry and wetlands.
Arbor Masters, One Health Kansas, Dennis Patterson, Kansas State University Research and Extension and Schlagel and Associates joined with K-State Olathe and contributed to the days' activities.
The students didn't just receive an exercise in listening. Students walked across the street to the site and – though the mud prevented them from planting tree and larger plant species – were able to throw out seed to plant native grasses and wildflowers.
Ella's concern and curiosity led to the engagement of a whole elementary school, and K-State Olathe hopes to have more opportunities like this one in the future.
- By Ashley Dunkak -