K-State Olathe names John Pascarella associate dean for academic and research programs
August 19, 2010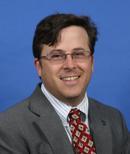 OLATHE, Kan. - John B. Pascarella is joining Kansas State University Olathe as associate dean for academic and research programs.
Pascarella, who is currently serving as associate dean of faculty and research programs and a professor of biology at the Allen E. Paul College of Science and Technology at Georgia Southern University, will start his new post Aug. 16. He will report to Dan Richardson, CEO of K-State Olathe.
"K-State Olathe is fortunate to have someone of Dr. Pascarella's caliber. His background in academic program development, linking research with external groups, and being familiar with Johnson County makes him the right person for this position," Richardson said.
At K-State Olathe Pascarella will be responsible for planning, promoting and administering the campus academic programs; building, facilitating and managing the campus research initiatives, along with their associated training and commercialization opportunities; and contributing to strategic and fiscal planning.
His responsibilities also include student recruitment and the establishment of effective program linkages with local businesses and industry partners in the Kansas City region. In addition, he will be the primary coordinator between the Olathe campus and the academic units and research centers on K-State's main campus in Manhattan. Pascarella will serve on the K-State Associate Deans Council, and he will support fund raising and external relations efforts related to K-State Olathe.
"I am deeply honored to be selected as the associate dean of academic and research programs at K-State Olathe," Pascarella said. "I look forward to working collaboratively with the K-State faculty to develop leading-edge graduate programs, and partnering with local businesses in research and development. K-State Olathe will provide the citizens of Johnson County and the entire Kansas City metro area new options in high-quality graduate education."
K-State Olathe is the academic research presence in the Kansas Bioscience Park. The campus provides a direct link to K-State's many resources while also giving the university greater visibility and access to the heart of the Kansas City Animal Health Corridor.
K-State Olathe's first building, the International Animal Health and Food Safety Institute, is under construction. The $28-million facility will house educational and laboratory spaces for research, education and technology commercialization in animal health and food safety. The 108,000-square-foot facility is expected to be complete by February 2011.
Pascarella has been in his current position at Georgia Southern since 2008. He manages faculty affairs, including recruitment, retention, promotion and tenure for the more than 150 faculty members in the college's eight departments. He also oversees the college's grant writing and proposals for new graduate programs and research themes.
Prior to joining Georgia Southern, Pascarella was a professor of biology at Valdosta State University, Valdosta, Ga. He also served as coordinator of the university's Center for Applied Research from 2007-2008, and was an administrative intern in the university's office of the vice president for academic affairs from 2006-2007.
Pascarella's many honors include an American Association for the Advancement of Science and Technology Policy Fellowship, and a National Science Foundation Graduate Fellowship at the University of Miami.
Pascarella's research in plant population and community ecology has been supported by the National Science Foundation, U.S. Fish and Wildlife Service, U.S. Military Research Acquisition Authority and other state, federal and corporate sources. He is the author of numerous peer-reviewed publications in the American Journal of Botany, Biotropica, Ecology, Ecosystems, Forest Ecology and Management, The American Naturalist, and many more. He has made professional presentations on his work at conferences, workshops and seminars across the country.
He is a member of the Botanical Society of America, Ecological Society of America, Florida Academy of Sciences, Florida Native Plant Society, Georgia Academy of Sciences, Sigma Xi and Southern Appalachian Botanical Society.
Pascarella grew up in Prairie Village, Kan., and graduated from Shawnee Mission East High School. He earned bachelor's degrees in biology and Latin American studies from the University of Kansas, and a doctorate in biology from the University of Miami.