K-State Olathe offers new graduate degree designed to prepare students for leadership roles in science-related careers
Tuesday, April 26, 2016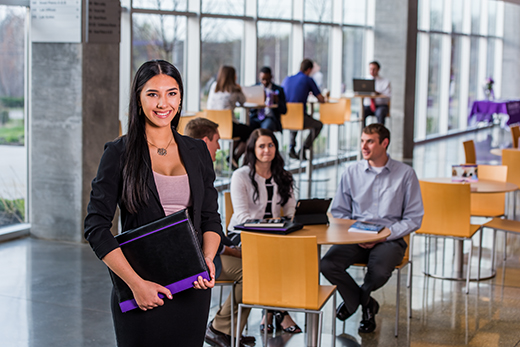 K-State Olathe is offering a Professional Science Master's degree that combines education in multiple scientific disciplines, leadership and management. | Download this photo.
OLATHE — A recent report by the Brooking's Institute states that the Greater Kansas City region is not producing enough highly educated or STEM-qualified workers to meet employer demand. In response, Kansas State University Olathe is offering a new degree designed for students to pursue advanced training in the sciences, while simultaneously developing professional skills highly valued by employers.

Combining education in multiple scientific disciplines, leadership and management, K-State Olathe is now offering a Professional Science Master in Applied Science and Technology degree. A Professional Science Master's degree, or PSM, is a unique degree that prepares students for direct entry into a variety of science-related career options in industry, business, government and nonprofit organizations. Students also learn skills that will help them progress into leadership roles.

K-State Olathe developed the degree in response to Kansas City industries' demand for employees with multidisciplinary education and skills in the science, technology, engineering and mathematics — or STEM — fields. According to a Kansas City Area Life Science Institute report, Kansas City is currently being outperformed by similar cities in the growth of young, STEM-educated talent . Similarly, KC Rising, a group focused on increasing regional prosperity, states that a challenge to reach its goals is that local demand for educated workers is exceeding supply, especially in STEM-related fields.

"Employers are demanding an agile and adaptable workforce that is not only highly educated in applied science, technology, engineering and math, but also has professional skills and practical experience," said Janice Barrow, associate dean and associate professor in the School of Applied and Interdisciplinary Studies at K-State Olathe. "With the introduction of the Professional Science Master's degree, K-State Olathe will be developing those skills, critical to the workforce. The courses are available now, so students can begin increasing their value in the workplace immediately."

The degree also supports the mission of the Johnson Country Education Research Triangle and K-State Olathe's role in providing graduate programming in food, animal health and related sectors that create a highly educated workforce that helps sustain engineering, technology and animal health companies in the region.

The introduction of the degree follows approval from the Kansas Board of Regents and the PSM National Office, an organization that promotes and supports PSM degree programs across the nation. It is the second PSM offered in the Greater Kansas City area and the first to be offered from Kansas State University.

K-State Olathe's PSM degree is designed for a cross-disciplinary education. The curriculum consists of more than 50 courses encompassing multiple scientific disciplines and topics in leadership and management. This enables students to tailor the curriculum to their interests and career goals. Courses are instructed by experts in their field.

Students can work toward earning the new degree through both the Professional Interdisciplinary Science Graduate Certificate and the Professional Skills for STEM Practitioners Graduate Certificate in addition to a capstone experience.

A PSM degree can typically be earned in two years.

More information about the PSM and its benefits is available at http://olathe.k-state.edu/academics/degrees/psm/. A complete list of graduate degrees and certificates offered at K-State Olathe is available at http://olathe.k-state.edu/academics/.