Sensory and Consumer Research Center
The Sensory and Consumer Research Center is a full service consumer research facility offering both qualitative and quantitative research in addition to consulting and project management. With staff experienced in testing a wide range of food and other consumer products, the center can work with clients to meet all of their objectives.
The Center is located at the K-State Olathe campus, just minutes away from some of the most densely populated areas of Kansas City. We are continuing to grow a large database of consumers of all ages and demographics, to meet all recruitment needs.
The Facility
Multipurpose rooms for large consumer studies (up to 45 per session)
Focus group rooms with live video streaming capabilities
Theatre style rooms for viewing audio/visual material
7 Individual testing booths
Video cameras for real-time viewing
Demonstration kitchen for viewing food preparation or food handling
Industry kitchen and equipment with capabilities to rent other equipment as needed
Capabilities
Consultation
Project Management
Experimental Design
Quantitative Research — Central Location testing or home use testing or combinations of both
Qualitative Research — exit interviews, mini discussion groups, focus groups
Statistical Analysis
Data Interpretation
Reporting
Utilizing the Sensory and Consumer Research Center
If you are interested in utilizing the Sensory and Consumer Research Center for your next project, please email Marianne Swaney-Stueve or call
913-307-7354.
Participate in a Study
If you would like to be a study participant, the Center is continually seeking consumers interested in sharing their honest opinions about food or consumer products. We offer daytime and evening testing times at the Center in addition to studies where products are sent home to be used. Consumers of all ages are welcome.


Recent Research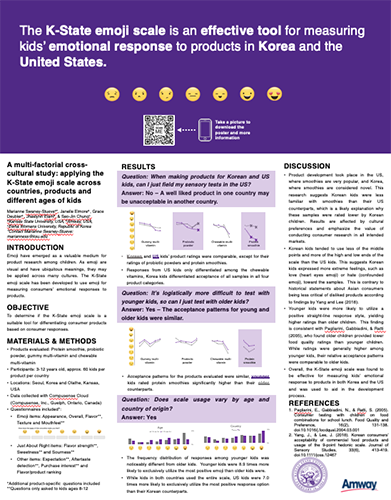 Researchers at the Sensory and Consumer Research Center developed an emoji scale that is an effective tool for measuring kids' emotional response to products in Korea and the U.S.