Monsees named program/project coordinator for urban food systems academic program
Monday, Sept. 14, 2020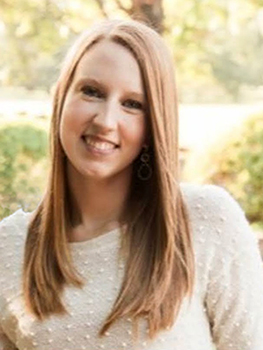 OLATHE — Melanie Monsees joins Kansas State University's horticulture and natural resources department as the program/project coordinator for the M.S. in Horticulture – emphasis in urban food systems program at the university's Olathe campus.

In the role, Monsees oversees management, outreach, fundraising and marketing support for the urban food systems program. She helps identify areas of need and opportunities in the master's and doctoral curriculums; develops new initiatives, print and digital materials for courses and promotion; helps recruit graduate students to the program; communicates with alumni and professionals; oversees the program's social media presence; and more.

"We are excited to welcome Melanie to our team," said Eleni Pliakoni, associate professor of urban food production and postharvest handling at the Olathe campus. "She brings some great experience from her previous roles at the University of Kansas Medical Center that will help our program grow and better serve students in the Greater Kansas City community."

Prior to joining K-State, Monsees was the research project coordinator for the Internal Medicine Chair's Office at the University of Kansas Medical Center in Kansas City, Kansas. She coordinated events, meetings and symposiums for the more than 250 faculty members in the research department; helped develop position descriptions and oversaw the new hire recruitment, interview and onboarding processes; assisted the Chair of Internal Medicine with coordinating meetings and various administrative duties; handled the logistics for physician recruitment visits; and managed the department's website and newsletter.

She also helped develop the annual Internal Medicine Research Day Symposium, which consisted of more than 200 research posters and an international speaker, was the administrator for department PBF Summer Fellowship for undergraduate students and helped oversee the introduction of a campuswide recycling program.

Before that, she was a research administrative assistant in the center for nearly 5 years, in which she handled grant award accounting and other finances, proofread medical papers and assisted with organizing research related meetings and events.

Monsees earned her bachelor's degree in environmental studies from the University of Kansas and holds certificates in serving learning and research experience.