Bootcamps provide fast-track career training to fill thousands of cybersecurity job vacancies in region
Friday, Nov. 20, 2020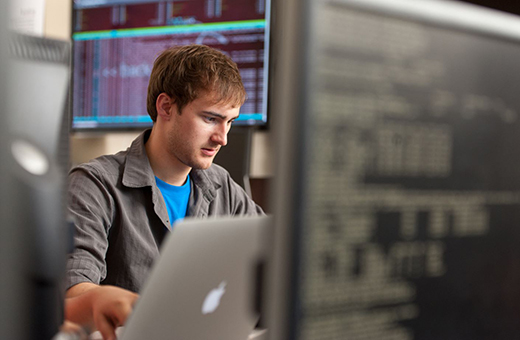 OLATHE — Kansas State University's Olathe campus and HackerU are kicking off an ongoing series of immersive cybersecurity career transition programs.

The cybersecurity bootcamps are 10-month, 400-hour, noncredit training program that provide an accelerated path for those in Greater Kansas City and across the state who are seeking a new career in the digital tech industry. These noncredit training bootcamps, which provide career development and industry-recognized credentials, are offered by K-State Olathe. The bootcamps are not part of any degree program at K-State.

The first cohort of 29 participants began Nov. 9. New cohorts are onboarded every 2 months.

A second cohort will begin Jan. 4, 2021.

The demand for skilled cyber professionals is at an all-time high, with more than 10,000 relevant positions currently open in Kansas and Missouri.

"Given the significant need for cybersecurity professionals in the Greater Kansas City area, K-State Olathe is pleased to offer an industry approved credential that complements other educational offerings in the region," said Jackie Spears, interim dean and CEO of K-State Olathe.

In addition to helping meet the region's increasing digital skills gap, the bootcamp provides a fast-track solution toward breaking into a lucrative and sustainable field for thousands of residents who are looking to make a career transition or seeking a new career opportunity.

"This is truly an outstanding series that will shape so many lives on both an economic and personal level," said Dan Vigdor, co-founder and executive chairman of HackerUSA Inc. "We're proud to partner with K-State, a university with an exceptional reputation for expanding the educational and economic growth opportunities throughout the Midwest, and we look forward to seeing the immediate positive impact it will have for the region."

The Kansas State University Cybersecurity Bootcamp series was developed in partnership with HackerU, an institute that works with academic institutions, government organizations and global companies to offer advanced workforce and professional development programs in digital skills.

The bootcamps are designed for learners of all skill levels and are led by industry leaders in their field. The curriculum helps participants develop robust, job-ready skillsets focused on the defense and prevention of cyberattacks while also preparing them for the cybersecurity industry's most noted certification exams.

The format consists of immersive lectures, individual and group exercises, virtual cyber labs and real-world simulations on essential topics, such as cyberinfrastructure and technologies, ethical hacking, threat hunting, data loss prevention and more.

Graduates of the Kansas State University Cybersecurity Bootcamp have the unique advantage of entering the cyber workforce with in-depth career development support from the program, which helps them excel, according to Ayal Stern, CEO of HackerUSA. In addition to the learning skills for a new career, participants receive services such as resume writing, LinkedIn profile building, interview coaching and job placement assistance.

"What we're offering is so much more than a training program," Stern said. "When a student enrolls, they're going to have a community of dedicated supporters advocating for their success every step of the way. This individualized mentorship goes far beyond the classroom and is available as they navigate their career."

Registration for the Jan. 4 cohort is currently open. K-State employees are eligible for a discount.

Visit digitalskills.ksu.edu to learn more about the Kansas State University Cybersecurity Bootcamp and register.