Two-day workshop focuses on regulations for animal drug, vaccine, pesticide development
Monday, Oct. 14, 2019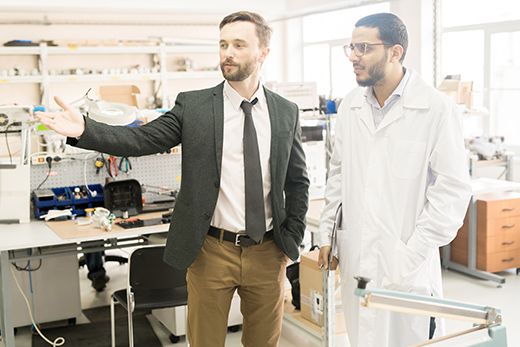 "Animal Health Regulatory 101" looks at how the FDA, USDA and EPA regulate animal health products.
OLATHE — Kansas State University's Olathe campus is holding a two-day workshop that is a deep-dive into the regulatory aspects around animal drug, vaccine and pesticide development, as well as the three federal agencies that oversee these products.

"Animal Health Regulatory 101" is from 8:30 a.m. to 4:30 p.m. Nov. 13-14 at the K-State Olathe campus.

The workshop is divided into seven broad sections that cover the regulatory spectrum. Section topics include an introduction and overview to the regulatory process; the approval process; fees and waivers; and how the U.S. Food and Drug Administration, U.S. Department of Agriculture and Environmental Protection Agency regulate animal health products.

"The course is designed for both the newcomer to the animal health pharmaceutical industry and those people tasked with developing and maintaining an animal health company's product portfolio," said Rob Hunter of One Medicine Consulting and one of the workshop's instructors. "It will help those responsible for overseeing a company's regulatory strategies, both at the early and intermediate knowledge base level."

Content is designed for professionals who are tasked with developing and maintaining an animal health company's product portfolio and who are involved with the company's regulatory strategies. This includes professionals at contract research organizations and contract development and manufacturing organizations, entrepreneurs, regulatory agents, U.S. agents of foreign corporations, process owners, record retention specialists, financial and institutional advisors, professionals who are new to the animal health industry, and others.

Hunter is leading the workshop with Norm Brown.

Hunter in an internationally recognized subject matter expert on pharmacokinetics and various pharmaceutical interactions with the body. He has 20 years of veterinary and human drug development experience with NASA, Pfizer Inc., Elanco Animal Health Inc., and other veterinary pharmaceutical companies.

Brown specializes in several aspects of the animal health regulatory process, including regulatory and compliance resolution, new production registration and international registration. He has 35 years of veterinary vaccine and regulatory and quality experience with Boehringer-Ingelheim Animal Health, Merck Animal Health, Diamond Animal Health and Mallinckrodt Veterinary.

The two-day workshop is part of K-State Olathe's larger regulatory affairs in animal health professional development series, which provides the latest information about the regulatory field. More than 400 professionals from animal health companies and affiliated industries have attended seminars in the series since it debuted in late 2017. Additionally, participant feedback has shown that the information is effective and making a difference in the industry.

Register and learn more about "Animal Health Regulatory 101" at olathe.k-state.edu/regaffairs101.