Woods named program coordinator for urban food systems academic program
Friday, Feb. 15, 2019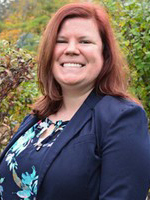 OLATHE — Heather Woods joins Kansas State University's horticulture and natural resources department as the program coordinator for the urban food systems program offered at the university's Olathe campus.

In the role, Woods oversees management, outreach and fundraising to support and market the urban food systems program. She helps identify areas of need and opportunities in the master's and doctoral curriculums; develops new initiatives, print and digital materials for courses and promotion; helps recruit graduate students to the program; communicates with alumni and professionals; oversees the program's social media presence; and more.

"I am so happy to have Heather as a part of our team," said Eleni Pliakoni, associate professor of urban food production and postharvest handling at the Olathe campus. "We are already seeing positive outcomes from Heather's skills and knowledge. We anticipate she will help the program grow and better serve students and the community in Kansas City."

Woods brings more than 10 years of experience working in program management.

Prior to the joining Kansas State University, she was the executive director and an association manager/event planner for Association Management Resources in Okemos, Michigan. She also had roles as an events planner, project coordinator and systems technician at the Michigan Public Health Institute, where she focused on maternal and infant health professional development; as the Lansing City Market manager for Lansing Entertainment and Public Facilities Authority; and was a member of AmeriCorps.

She said her passion for urban agriculture stems from her time in AmeriCorps and as a farmers' market manager.

Woods earned her bachelor's degree in history with a specialization in museum studies and a bachelor's degree in communications with a focus on organizational communication from Michigan State University.

She and her husband, Dan, have three sons, Malachi, Connor and Ronan. In her free time, Woods enjoys reading, gardening and exploring all of the offerings in her new home in Kansas City.